Texa Navigator TXBe
Texa Navigator TXBe
NAVIGATOR TXB Evolution is the new tool that TEXA designed and developed specifically for the BIKE and MARINE diagnosis environments. 

Its hardware features make it compatible with all the current protocols for both environments and its integrated 16-pin CPC connector allows the use of all the diagnostic cables. It is extremely powerful, equipped with a 16 MBit SRAM and an 8 GBit NAND FLASH storage memory; these are very important features as they allow the mechanic to manage the map files easily. 

The supported CAN standards include the CAN single wire management and an extra CAN controller for the diagnosis on more than one network.
IDC5 Software - Full Speed Ahead
IDC5 is the latest generation of TEXA's renowned operating system and another step forward to assist technicians. Thanks to major improvements in code, the new system is faster than ever and guarantees virtually instant communication with a vehicle's control units.

The graphic interface of IDC5 is designed to resemble the latest consumer applications, simplifying and making the various steps in maintenance and repair procedures more intuitive.

The new "Interactive Wiring Diagrams" function lets you consult wiring diagrams using animations of a system's devices and an interactive map generated to show signal flows to and from the control units. Another new function allows you to view and manage vehicle parameters.

These can be displayed in graphic form and can be filtered using text searches or by selecting those specifically required. Even the downloading of updates is faster in the new software.
Technical Specification
Processor
CORTEX M3 STM32F103ZG 72 MHz, FLASH 1024 KBytes, SRAM 96 KBytes
SRAM Memory
16 MBits organized in 1024K x 16 bits
NAND Flash memory
8 GBit on an 8-bit bus
Vehicle Battery
12 VDC and 24 VDC systems' management
External Power Supply
8 ÷ 32 Volt
USB Communication
Virtual RS232 via USB 2.0 Device
Wireless Connection
Bluetooth class1 (30 m)
Electronic Switch
2-way, 13 independent positions
Diagnostics Connector
16-pin CPC
Visible Warnings
1 green/red LED, 1 blue LED
Operating temperature
0 ÷ 50 °C
Storage temperature
-20 ÷ 60 °C
Operating relative humidity
10% ÷ 80% non-condensing
Weight
215g
Protocols Supported

Blink codes
K, L (with current protection 100 mA), ISO9141-2, ISO14230
CAN ISO11898-2 High Speed
Second ISO11898-2 CAN Channel
CAN ISO 11898-3 LOW Speed
CAN SAE J2411 Single Wire
SAE J1850 PWM
SAE J1850 VPW
SAE J1708
RS232

Standards

Directive: 1999/5/EC
Safety: EN 60950-1:2006 + A11:2009 + A1:2010 + A12:2011 + AC:2011 + A2:2013
Electromagnetic compatibility: EN 55022, EN 55024, EN 301 489-1
Radio systems: EN 301 489-17, EN 300 328-2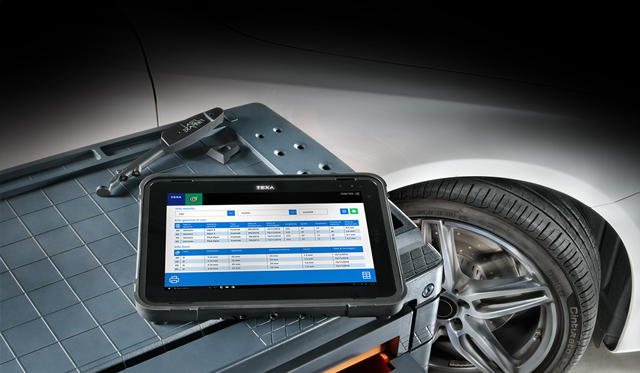 Texa Laser Examiner
The Laser Examiner is a small practical tool to objectively measure brake disk wear with an accuracy of a tenth of a millimetre without having to remove the wheel from the vehicle. You can also measure tire tread wear using a simple adapter.
This tool integrates perfectly with the TXB.
For more details, visit the Texa Laser Examiner page.