Brain Bee DC-7500 UK Decelerometer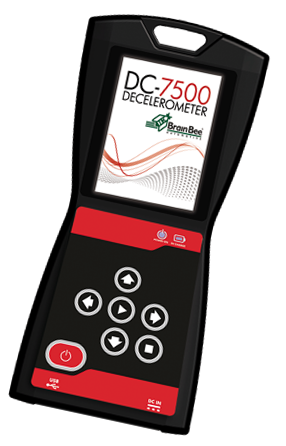 Brain Bee DC-7500 UK Decelerometer
The new DC-7500 decelerometer from Brain Bee takes portable brake testing to new levels of technology and accuracy. The DC-7500 is fully DVSA approved for MOT testing and incorporates the latest connected technology to meet the latest DVSA connected MOT bay requirements.
The DC-7500 comes complete with a suction bracket for quick mounting and has an optional handlebar bracket for motorcycles. The decelerometer is quickly set up with intuitive and quick select menus. Once prepared, a road test is completed to record the braking efficiencies and results. The results are displays on a large clear screen.
Once returned to the workshops the results will be automatically uploaded to a PC, where being used in a connected MOT bay the results are seamlessly sent to the DVSA computer.
Every MOT station needs to have a fully calibrated Decelerometer Brake Tester as a part of its registered equipment. If you are looking to replace or update your Decelerometer, the Brain Bee DC-7500 offers excellent features with the latest technology.
The DC-7500 can be used for motorcycle, 3 wheeled trike/quad, car & van testing.
Another feature of the Brain Bee DC-7500 is its ability to act as a brake tester for truck,bus and commercial vehicles, agricultural machinery, plant and trailers. As a part of regular servicing and periodic inspections, the results can be uploaded and printed on an A4 results page for storage with the vehicle inspections.
As a part of a regular service schedule, operators of commercial vehicles should carry out brake efficiency tests between annual MOT tests to ensure the braking system is operational and efficient. The Brain Bee is an excellent choice to carry out these tests.
The Brain Bee DC-7500 is covered by a 2 year warranty.
Calibrations can be carried out simply and efficiently by contacting the Hickleys GE service team on 01823 328530
Characteristics
Detected Values
Max Average Pedal Force
Medium Average Deceleration
Braking Times (Start, End, Duration)
Initial Speed
Covered Distance
Settable Parameters
Pedal Force Trigger (No For Uk Verison)
Pretrigger (10% Of Total Test Time)
Test Duration (5 Or 10 Sec.)
Sampling Time
Calculation Method (Directive 98/12/Ec) Or For Agricultural Machinery
Memory
Up To 8 Records For Free Tests;
Display
Lcd Display Tft Color 3,5" 320 X 240 700 Cd/M2
Keypad
Soft Touch (Power On Included)
Printer (Optional)
24 Columns Dot
Matrix Printer
Thermal Paper. Paper
Width 57.5 Mm
Power Supply
Inner Li-Ion Battery Pack With Battery Charger Supplied With The Tool
Operating Temperature
5° C ¸ 40° C
Dimensions And Weight
Printout Report
The report can either be printed through:
DC-7550 Bluetooth printer (Optional)
Direct connection to the PC via Bluetooth
Standard Configuration
Main unit with Integrated Accelerometric Sensor
Standard cable
Power charge
Suction cup mount
Quick guide
Optional Configuration
DC-7550 Bluetooth Printer
Handlebar Mount
Carpet Support
Optional Extras

DC-7500 Bluetooth printer
Only £369.00 + VAT
P/No. :
bbee10207000120xx

Handlebar Bracket
A bracket to secure DC-7500 to motorcycle handlebars.