Stenhoj Eurolift In-Ground Lift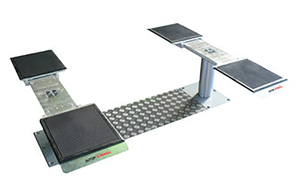 Stenhoj Eurolift 3T In-Ground Lift
The AUTOPSTENHOJ Eurolift is a twin ram hydraulic lift which is an ideal choice for general vehicle repair and maintenance works. The lifting superstructure (which is hot galvanised) has a very low drive over height of just 65mm!
The Eurolift 2.30 Pv Repair is a rather simple and solid hydraulic lift which can be used for lifting of a wide range of passenger cars.
Clever XY heads are an optional extra which are available for this lift and increase the lifting area.
Three different platform lengths are available :
2.30PV (120-180) 1200mm – 1800mm
2.30 PV (140 -200) 1400mm – 2000mm
2.30 PV (160 -220) 1600mm – 2200mm
Technical Specification
| Specifications | Eurolift 2.30 Pv – 120-180 | Eurolift 2.30 Pv – 140-200 | Eurolift 2.30 Pv – 160-220 |
| --- | --- | --- | --- |
| Lifting Capacity | 3000kg | 3000kg | 3000kg |
| Lifting/Lowering Time | 30 seconds / 30 seconds | 30 seconds / 30 seconds | 30 seconds / 30 seconds |
| Minimum Height | 65mm | 65mm | 65mm |
| Maximum Height | 2015mm + Rubber Pads | 2015mm + Rubber Pads | 2015mm + Rubber Pads |
| Front Minimum/Maximum Arm Lengths |  1200mm – 1800mm |  1400mm – 2000mm |  1600mm – 2200mm |
| Motor Size | 3 kW | 3 kW | 3 kW |
| Power Required | 3 Phase (16amp Isolator required) | 3 Phase (16amp Isolator required) | 3 Phase (16amp Isolator required) |
| Operation | Electro-hydraulic | Electro-hydraulic | Electro-hydraulic |
Call us now on 01823 328530 for more details