Eeprom Programming Accessories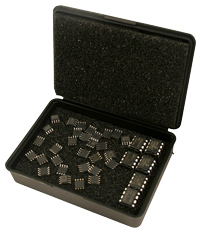 Universal Eeprom Kit
Often the process of creating a transponder from the dump file of an eeprom requires the eeprom to be overwritten with different information. You should NEVER overwrite a customer's eeprom until you have a copy of the original, and are able to put the car back to standard.
Correct Procedure
Read the vehicle eeprom and set to one side (in case a problem occurs)
Select the same type of eeprom from your universal kit
Create a new eeprom with your new transponder information
Check the new eeprom works with the vehicle
Return the original eeprom to your universal box for use on the next vehicle
Contents
Anti-static case
SIOC & DIP applications
30 eeproms
6 x 95080
2 x 95160
2 x 25040
6 x 93c66
3 x 93c56
2 x 93c86
2 x 24c01
3 x ATMLH744
2 x ATMLH842
2 x ATMLU837

Magnifying Bench Light
Desk mounted magnifier
22 watt lamp
Shadow free light
Ideal for intricate work
Spring balanced metal arms
Multi position G clamp
22 watt energy saving bulb

Eyepiece Magnifying Glass
1 piece magnifying glass
Magnification x10

Tweezer Set
Selection of 4 different tweezers for holding eeproms. (Pointed, flat, reversed & angled)
135mm Stainless Steel Tweezers
High quality tweezer ideal for eeprom work. Strong and narrow straight point with electro static discharge safe coated handle.

Desoldering Braid
2mm solder braid
Ideal for cleaning eeprom pads & legs

High Quality Desoldering Braid
2.8mm width
1.5m length
Excellent braid quality

Lead Free Solder
100g reel
1mm solder
Contains flux
Ideal for eeprom work
£39.95 + VAT
Log in for Trade Prices

High Quality Solder
Ideal for soldering eeproms
0.5kg
Fast flow properties
Minimum residue

PCB - Flux Cleaner
Cleaning solvent to clean eeproms or PCBs
Low toxicity
Suitable for electrical equipment

Flux Off Cleaner
Powerful flux remover for high temperature lead free flux removal. Comes with built-in brush.

No Clean Flux Dispensing Pen
Applies a patented non-corrosive, halide free, oragnic no-clean flux. Chisel tip marker provides exact delivery of flux to surface.

Silicone Coating
Silicone coating for eeproms and IC after refitting.

SOIC Small 8 Leg Clip
8 leg SOIC clip idea for clipping onto eeprom.

DIP Large 8 Leg Clip
8 leg large SOIC clip idea for clipping onto eeprom.