Smart Aerial + Portable Key Cloning Device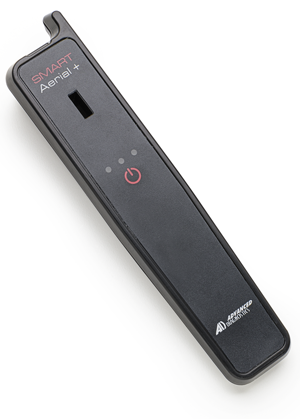 Smart Aerial + Portable Key Cloning Device
The Smart Aerial+ from Advanced Diagnostics is the low investment, easy to use cloning device, ideal for delivering a reliable, no-nonsense key duplication service to the consumer.
New "Smart" Cloud cloning device with intuitive software associated to MYKEYS Pro.
Integrated into the MYKEYS Pro support ecosystem
Updateable with new functionality in the future
Flexible transponder pricing. With the new transponder, GTI-Pro
Lightweight, portable device with internal, rechargeable battery (USB cable and mains charging cable with a universal AC adaptor)
WiFi and Bluetooth connectivity
U-Snoop functions integrated
New cloning capability for Mazda (8C Temic, not available for RW4)
Transponder pre-setting function
Compatible with all existing Silca cloning capabilities. Certified CE, UKCA, FCC,RHOSS,RAE.
Key Features
Up to 3x times faster cloning thanks to superior calculating performance
Portable with an internal, rechargeable battery
Works together with the MYKEYS Pro app to guide user through the cloning process
Future proof: updateable, no memory capacity limits
More powerful aerial
Full connectivity with WiFi and Bluetooth
Compatible with all Silca cloning technology
Reliability of using Advanced Diagnostic proprietary servers in the cloud cloning process
Developed and made in Italy. CE certified
Cloning Process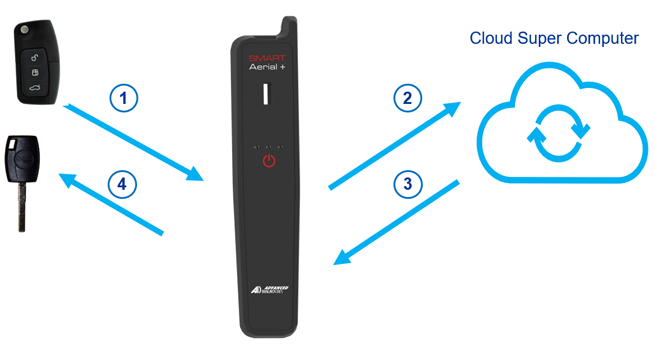 Smart Aerial+ reads original key
Data sent to cloud for calculation
Cloning data sent back to Smart Aerial+
Transponder is cloned to create a new key
Technical Specification
Dimensions:

Length: 210mm
Width: 48mm
Depth: 30mm
Weight (unpacked): 120g

Power supply:

5 VDC mains connection via USB port
3.7 VDC with the battery

Battery:

Voltage: 3.7 VDC
Capacity: 1000 mha

Antenna frequency range:

Wi-Fi: 2.4 – 5.0 GHz
LF: 125 – 134 KHz