TAP100 Tread Depth and Pressure Tool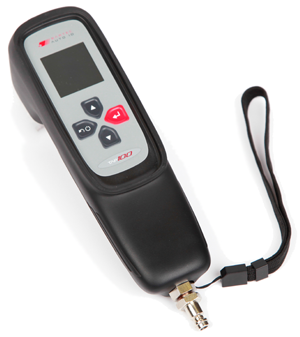 TAP100 Tread Depth and Pressure Tool
The first integrated hand held Tread Depth and Pressure tool with colour display. Simply save the vehicle test data to your PC, then print out reports which sell the required repairs and parts to your customer.
The TAP (Tread & Pressure) Reader is designed to give fast accurate results. It can eliminate the paperwork involved in collecting data and reporting the results to the customer. Using a colour coded warning system the tool shows when tyres are legal and when replacement is recommended.
Approved for MOT (UK) Testing.
Kit contains: Tool, hose, user manual, wireless wall charger, USB cable, pin cover, tool case.
Functions of TAP100
Tread depth and pressure in one tool can capture all four wheels in under one minute
No need to connect to another tool, Bluetooth communications - no cables
Colour screen for displaying legal and recommended replacement status
Red-amber-green intuitive user interface
Works with TPMS Desktop – data management, TPMS info and software updates
Lamp highlights tread wear pattern and damage
Quick release lightweight pressure hose
15mm steel depth pin with profiled end to meet regulations
Ergonomic, light weight and low profile for ease of accessing the tyre
Increases customers confidence leading to increased new tyre and parts sales
Technical Specification
High resolution colour display, sunlight readable
Silicone rubber boot for added protection
Maximum tread depth 12mm
0.01mm accuracy version for UK MOT testing – EINYA19863-0716026
Pressure range 0-10bar (0-150PSI)
Pressure accuracy +/-0.07bar (+-1PSI)
Bluetooth for wireless data transfer
Wireless charging
Operating temperature 0 to 40°C
Built in lamp for illuminating tyre surface