VDO TPMS Pro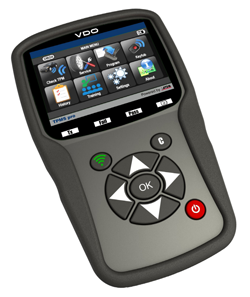 VDO TPMS Pro
The VDO TPMS Pro is a high-performance, compact and universal testing and programming device for tire pressure measuring sensors (TPMS) from a large number of vehicle manufacturers. Equipped with the latest scanning technology, sensors are very rapidly read out, checked and where necessary re-coded.
Thanks to icon-based navigation on the high-resolution 4.3 inch color display, scrolling through several menus and functions is very easy, enabling the user to work efficiently. This is why the VDO TPMS Pro is ideally adapted to the needs of the engineers.
TPMS sensors can be checked without any problem using the VDO TPMS Pro. In addition, the battery status, the temperature and the tire pressure of the respective TPMS sensor (and more besides) can be displayed.
An extensive database is integrated into the VDO TPMS Pro and contains much information on the TPMS sensors, such as spare part numbers or torques – and that both ensures the quality of their work and makes that work much easier.
Using the VDO TPMS Pro, universal sensors of various manufacturers can be programmed. A choice between the functions "Create" and "Copy" can be made here.The newly programmed TPMS sensors can, depending on the vehicle model, be imported into the TPMS control unit and taught via the OBDII link. Furthermore, errors in TPMS systems can be read out and deleted via the OBDII interface. With the integrated barcode reader, the VDO TPMS Pro is well prepared for future functions.
Features
Monitoring and programming of universal TPMS sensors (Alligator sens.it, HUF IntelliSens, Schrader EZ-sensor, T-Pro)

Read-out and deletion of errors in TPM systems
Comprehensive database with items of information like replacement part numbers and torques
Printouts of all relevant data
Includes 1 year's software updates
Downloads
Package Deal
As above, but includes a docking station and IR printer.