AutoScan Fi Chassis Dynamometer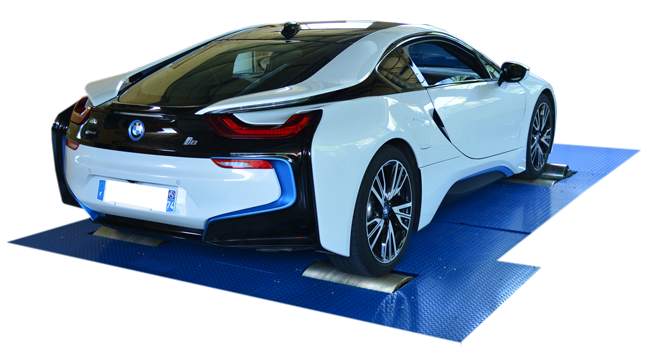 AutoScan Fi Chassis Dynamometer for 2WD and 4WD Vehicles
Chassis Dynamometer for two or four wheel drive vehicles. Designed to measure vehicle output to allow optimisation of the vehicle's performance under dynamic operation conditions.
2WD and 4WD
Modular and scalable design X2 > X4
Dynamic driving by road load simulation
Motorbikes and ATV compatibility
Optimised tyre / roller
Full featured and powerful SW
Speed synchronisation up to 300km/h
Low inertia technology
Vehicle and user safety
AutoScan X4
Autoscan X4 and X4+ are rolling road dynamometers for 2 or 4 wheel drive road vehicles. Thanks to 'Fi Technology' (low inertia) – featuring hollow rollers and fewer rotating parts – the total inertia moment can be reduced while achieving a smaller overall size. This technology, combined with high speed electronic management, ensures very accurate and extremely responsive control of the load applied to the vehicle: adjustments at steady engine cycles are clear and precise.
However, the capabilities of Autoscan Fi are fully revealed in transient cycles (acceleration): thanks to the Fi technology, the load applied is controlled by the look-up table without time lags or delays, thus ensuring the faithful and accurate reproduction of real driving conditions.
Autoscan X4 and X4+ are equipped as standard with an eddy current brake located at the rear of the bench that works on all the rollers thanks to the speed synchronisation system.
AutoScan X2
Autoscan X2 is the dual roller version of the X4 model. This version offers the same technology and the same performance as the Autoscan X4 and is primarily used for testing two-wheel drive vehicles aimed at motorsports or not equipped with driver assistance or engine management safety systems.
Autoscan X2 also benefits from 'Fi technology'. It is equipped with one air-cooled eddy current brake as standard, and can be equipped with an optional second eddy current machine.
AutoScan X2 and X4+
Autoscan Fi and X4 Plus can accommodate motorcycles and quads (optional). A clutch is used to isolate a the roller connected to the brake in order to reduce the inertia driven by the vehicle and to avoid causing too much resistance; which would inevitably cause wear or even permanent damage.
A movable front support and rear straps ensure the stability of the motorcycle while an extension of the fan diffuser channels high speed cooling air straight to the engine. And, of course, protection covers are placed on the unused portions of the rotating roller.
For quads, an adaptable front stand holds the vehicle while the second wheel is placed on a moving belt. Protective covers complete this system that can be implemented very quickly.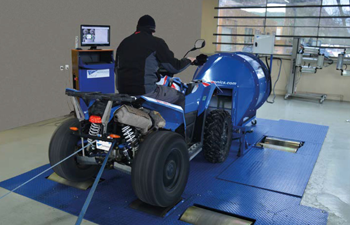 Downloads
Other Information
Videos
Call us now on 01823 328530 for more details