BMW ICOM A&B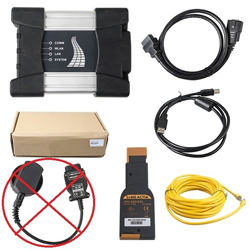 BMW ICOM A&B
Genuine ICOM NEXT A Interface Single Interface is the replacement of BMW ICOM A2.
BMW ICOM NEXT A+B support diagnostic & programming function for cars BMW, MINI, Rolls-Royce BMW-Model.
BMW ICOM NEXT A+B Diagnostic Overview
Functionally compatible to ICOM A2
Mechanical design similar ICOM A2
Backwards compatible to motorcycle adapters (ICOM D, E)
BMW ICOM NEXT A+B Improved Functionality and Performance
Gbit workshop LAN, backwards compatible
Preparation for Gbit LAN on vehicle OBD
ICOM Next hardware adaptation will be necessary for future Gbit car interface, will cause adaptation costs)
Faster start-up times and high throughput
Through high-performance, low-power ARM SoC
Improved handling: more flexible OBD cable etc.
The ICOM NEXT head of the works combined LAN and Wi-Fi with the original software
ISTA P/D OSS available Online.
BMW ICOM NEXT A as opposed to the older models of interfaces has secured support to 2020, Gigabit ethernet (Gxx series), WiFi.
What's In The Box
Genuine ICOM NEXT A Interface Single Interface
BMW ICOM NEXT A+B New generation BMW scanner Release
Genuine ICOM NEXT A Interface
New generation BMW ICOM NEXT B
Please Note: SUPPLIED WITHOUT SOFTWARE.
Notes
Software is purchased directly from BMW
If you display any of the BMW logos on your website, this may delay/cancel your application until they are removed.
We will help with customer registration you will need details such as passport number, website URL, VAT registration details company house registration etc.
We will set up customer email, as verification is needed
Registration takes only 48hours
Credits need to be added to the account to set up tool approx. 1credit =1 Euro. We will invoice this to customer at time of set up.
We will set up laptop before sending to the customer
BMW requires tech support due to regular software updates/changes requiring laptop updates through our tech support.
Package Deal
Purchase the BMW ICOM in a package with the following:
"Proactively supported" refurbished Getac S400 laptop *
1 months product support
* Laptop is a re-furbished Getac S400 laptop with a program that allows it to be remotely supported and monitored. Min spec is 250HDD 4GB Ram i5 processor. If our laptop is purchased and is kept in tech support contract for 2 years, we will replace the laptop FOC after 2 years use. Tech support is hardware and software support, not vehicle tech support.
Product Support
We are able to offer a Guaranteed Genuine Equipment Product Support Service for the above product.
1 HOUR Support
Sign-on Fee
Alternatively if you already have a genuine interface and want our high quality product support, after paying the sign-on fee you can benefit from the same high quality product support.