Ford VCM II
Ford Vehicle Communication Module II (VCM II)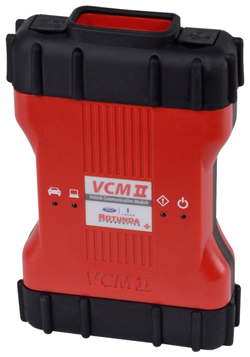 Authentic Ford OEM diagnostic scan tool that works with the Ford IDS diagnostics application running on a PC to diagnose Ford, Lincoln, and Mercury vehicles. Ford and VCM II are used under license from Ford Motor Company
The VCM II Offers
Authentic OEM diagnostics for Ford, Lincoln, and Mercury vehicles
Customer Flight Recorder (CFR) functionality with an optional pendant cable
Industry standardized J1962 Data Link Connector (DLC) and USB cables
Four LED indicators and signaling device providing technician with continuous visual as well as audible operating status
Enhanced 802.11 wireless that minimizes dependencies on service department wireless capability infrastructure
Improved durability
SmartPower Management system to protect the VCM II in extreme environments
Integration with IDS
New wireless software integrated with IDS installation package
Wireless functionality preferred for all IDS functions including module reprogramming. USB wired connections are only required to update the VCM II loaded code and to set up the VCM II to function as a Customer Flight Recorder
CFR option added to provide legacy and future vehicle coverage
NOTE: VCM II can be used with any PC meeting the minimum specifications shown on www.motorcraftservice.com which also has a valid IDS software license subscription.
IDS software licenses are sold separately from the VCM II.
Vehicle Coverage
VCM II will support all current Ford European production vehicles (including New Ka). Whilst every attempt has been made to support all legacy vehicles, the following previous models, due to their aging and unique vehicle protocols are not supported:
Escort and Mondeo up to August 1996
Galaxy up to February 2006.
Notes
No fee for customer registration process.
License needs to be bought at point of sale so we can set up tool (add £945)
Euro 5 accreditation process is needed for security function such as adding ECU's and keys When our laptop is purchased, we will help the customer do this. Details such as passport number, website URL, VAT registration details company house registration etc.
To use security functions, the customer needs to purchase 167 hotline minutes (approx. 250 euros) 50 euros per additional user above 3 (each code costs 30-40 euros).
We will set up laptop before sending to the customer
Ford requires tech support due to regular software updates/changes requiring laptop updates through our tech support.
Package Deal
Purchase the VCM II in a package with the following:
"Proactively supported" refurbished Getac S400 laptop *
1 months product support with initial setup
Ford IDS 1 Year Software
* Laptop is a re-furbished Getac S400 laptop with a program that allows it to be remotely supported and monitored. Min spec is 250HDD 4GB Ram i5 processor. If our laptop is purchased and is kept in tech support contract for 2 years, we will replace the laptop FOC after 2 years use. Tech support is hardware and software support, not vehicle tech support.
Product Support
We are able to offer a Guaranteed Genuine Equipment Product Support Service for the above product.
1 HOUR Support
Sign-on Fee
Alternatively if you already have a genuine interface and want our high quality product support, after paying the sign-on fee you can benefit from the same high quality product support.