VAS6154 OE Dealer Tool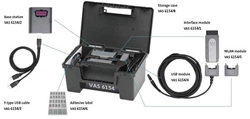 VAS6154 VW, Audi, Seat, Skoda, Bently & Lamborghini
The VAS6154 can be used with all VW, Audi and Skoda vehicles from 2000 onward including NEW & FUTURE MODELS under production.
This VAS6154 Interface is the latest interface for the diagnostic and programming applications VAG ODIS-S (Service) and ODIS-E (Engineering), it replaces the VAS 5054A. Available for Off-board Diagnostic Information Engineering from version 6.2 onward and Off-board Diagnostic Information Service from version 3.0.3 onward.
Product Features
Infrastructure mode - In infrastructure mode, several network-capable devices can be connected together (network subscribers). For a wireless network, a WLAN access point is required. This access point forms the connection to WLAN-ready subscribers.
Point-to-point connection - With point-to-point connection via a wireless network, VAS 6154 creates a radio network. VAS 6154 thereby adopts the role of a radio access point (Access Point). A direct connection is made between the diagnosis unit and the diagnosis interface VAS 6154. VAS 6154 is configured using the web-based user interface.
Notes
Software is purchased directly from VAG
If you display any of the VAG logos on your website, this may delay your application until they are removed.
When laptop purchased we will help with customer registration. They will need details such as passport number, website URL, VAT registration details company house registration etc. (registration can take up to 6 weeks)
It is likely VAG will contact customer directly for information about business. Once registration is completed, VAG will contact them for payment of Geko token approx. £360 per year up to 3 years contract available.
We will set up the laptop remotely when customer receives notification that Geko token has been received.
Recommended laptop spec is Microsoft® Windows 7 (64Bit), CPU 2 GHz dual-core processor, 4GB RAM, at least 10GB of free hard drive space per Manufacturer, Graphics 1024 x 768, 1 spare USB port, DVD drive and a LAN/WLAN connection.
VAS requires tech support due to regular software updates/changes requiring laptop updates through our tech support.
Package Deal
Purchase the VAS6154 in a package with the following:
"Proactively supported" refurbished Getac S400 laptop *
1 months product support
* Laptop is a re-furbished Getac S400 laptop with a program that allows it to be remotely supported and monitored. Min spec is 250HDD 4GB Ram i5 processor. If our laptop is purchased and is kept in tech support contract for 2 years, we will replace the laptop FOC after 2 years use. Tech support is hardware and software support, not vehicle tech support.
Product Support
We are able to offer a Guaranteed Genuine Equipment Product Support Service for the above product.
1 HOUR Support
Sign-on Fee
Alternatively if you already have a genuine interface and want our high quality product support, after paying the sign-on fee you can benefit from the same high quality product support.