Ford VCMM Kit
Ford VCMM Kit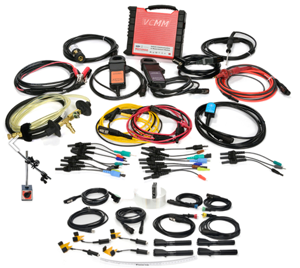 Ford Vehicle Communication & Measurement Module (VCMM) diagnostic kit
The Vehicle Communication & Measurement Module (VCMM) combines all of the functionality of the VMM, VCM II, and a vibration analyser in an industry leading one-box solution.
The combining of this functionality will provide dealers with industry leading diagnostic capability at a significantly lower cost of ownership.
Key Features:
Vehicle Communication (VCM II capability)
Customer Flight Recorder capable
4-Channel Oscilloscope
4-Channel Digital Multi-meter
5th-Channel direct monitoring of the DLC connector
Vibration Analysis
Signal Generator
NOTE: The VCMM will run on any Windows 7 or higher operating system that has 8GB of RAM or higher which also has a valid IDS software license subscription. IDS software licenses are sold separately from the VCMM
Technical Specification
4/5 Channel Oscilloscope
Improved user interface from VMM
Four independent differential Input Channels enables independent monitoring of signal types such as monitoring voltage while concurrently measuring voltage drop across the circuit.
A Fifth High Speed Channel that can directly monitor CAN signals at the DLC connector
Capture/Record capability to assist in capturing intermittent issues
Advanced Triggering capability
Pre-Configured setup configuration for common signals and procedures
New "Time/Angle" time based settings (CKP/CMP timing diagnostics)
Vibration Analysis
Improved user interface with reduced configuration and setup time
Color display
Record capacity
The Digital Multi-Meter
Monitor up to four independent readings at the same time
Capture/Record history
Graphing capability for up to two channels
Voltage, Current, Resistance, Pulse Width, Duty Cycle, Frequency and Period
Signal Generator
User configurable settings for signal waveform types: sine, square, triangle, pulse generator, DC voltage and arbitrary.
Verify integrity of module input wiring and the module hardware
Improved interface and greater adjustability of voltage and frequency
System Requirements
The VCMM will run on any Windows 7 or higher operating system that has 8GB of RAM or higher.
Package Contents
VCMM Testing cables, probes, AMP clamps, fluid fitting, hoses
Signal generator
Digital multi meter
Power supply
Kit bag
Package Deal
VCMM Kit Package combines a high specification, semi-rugged, Panasonic CF-54 laptop, with a large, bright 14 inch LCD screen with new VCMM kit and software pre loaded onto the laptop and 1 months licence included
Product Support
We are able to offer a Guaranteed Genuine Equipment Product Support Service for the above product.
1 HOUR Support
Sign-on Fee
Alternatively if you already have a genuine interface and want our high quality product support, after paying the sign-on fee you can benefit from the same high quality product support.