Delphi Common Rail Quick Fits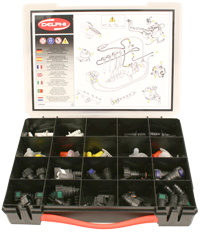 Delphi 9109-947 Common Rail Quick Fits
For the vast majority of vehicles equipped with a common rail system, the connections of the low pressure circuit between the various components (fuel tank, diesel filter, common rail pump inlet/outlet and common rail return) are by "Quick-Fit" type fittings.
Quick-Fits can be used on all diesel common rail systems (Delphi, Bosch, Continental and Denso) and all common rail components on the low pressure side of the system. There are many configurations, depending on the vehicle architecture and the various strategies of the vehicle manufacturers.
Delphi is launching 15 Quick-Fit connectors with the range providing comprehensive coverage of the UK Common Rail vehicles. All 15 connectors plus protection caps are included in the kit, 9109-947 which also provides on-going storage for the range.
Kit Includes
15 variants of "Quick-Fit" fittings – all makes.
3 variants of protection caps diameter, (8.0 mm, 9.49 mm and 10.0 mm) male and female types.
Plastic storage case with identified locations via contents sticker on inside lid of the box, to aid choosing the correct fitting.
Individual fittings are available to purchase to replenish the kit as fittings are used.