The Bosch EPS118 Injector Tester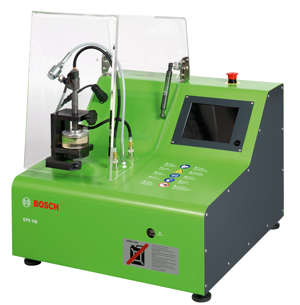 The Bosch EPS118 Injector Tester - The Unique Check & Change Tester
The proportion of common-rail systems found on diesel engines continues to rise. The new EPS 118 provides precision technology from Bosch at an affordable price, giving even smaller workshops the chance to participate in this growing market with minimal outlay.
At a Glance
Precise and fully automatic injector testing
Simple and fast setup
Intuitive operator interface (touchscreen)
Covers a wide range of injectors (incl. Bosch, Continental, Siemens, Delphi, Denso)
Database with test values (Bosch and other manufacturers)
Additional injector-specific information
Display of spray pattern at all pressures
Easy display of test results for workshop and customer
Report printout
Space-saving benchtop unit (60 x 60 cm)
Download the EPS118 Sales Leaflet
The Advantages for the Workshop
Entry-level opportunity for CR injector testing
Saves time and money compared to outsourcing for testing
Easy to operate even without previous experience
Fast identification of defective injectors
Unbeatable price
Report printout makes it easier to convince customers
Software and Display Unit
Clearly organized and easy to understand innovative menu navigation. Several possible result display formats available, e.g.:
Normal mode: good/bad display
Expert mode: good/bad display and graphical display of injected volumes
Testable Components
CR solenoid valve injectors (for cars) from Bosch, Denso, Delphi
CR piezo injectors (for cars) from Bosch, Denso, Siemens and Continental
CR solenoid valve injectors (for trucks) from Bosch
* Note - Optional kit required for Denso, Delphi, Siemens, VDO and Continental
Technical Equipment for Efficient Work
Test pressure up to 1800 bar
Three-phase electric power not needed for operation
No cooling/heating system necessary
Easy servicing and filter changes
Software update and printer connection via USB or WLAN
Technical Requirements
Mains power supply 100 to 240 V
Compressed-air supply 7 to 8 bar at flow rate of 320 l/min
Common workshop compressor required
Amortization example
If the workshop tests four injectors per week with the EPS 118, the device is amortized in about two years.