Bosch Diesel Set 1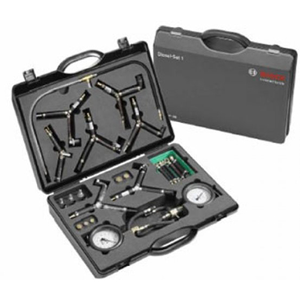 Bosch Diesel Set 1
Diesel Set 1 can be used to test the low pressure fuel circuits on everything from in-line pumps right through to state of the art common rail system.
Its compact and sturdy design makes the Diesel Set 1 ideally suited to coping with tough workshop conditions. The measuring instrument case includes a wide range of variants and has been designed to enable simultaneous measurement at two points in the low-pressure circuit.
Kit Includes
A test pressure line for return pressure measurements on Bosch piezo injectors
Two test hoses with connector couplings
10 Y-connector combinations with the original manufacturer couplings
Threaded hollow connectors and banjo bolts with plug-in nipples
Various drain valves and double banjo bolts
One pressure gauge for a measuring range of -100 to 500 kPa
One pressure gauge for a measuring range of 0 to 1,600 kPa
Various additional test pressure lines and Y-hoses for other commercial vehicle applications are available as accessories.