Delphi YDT810 Low Pressure System Diagnostic Kit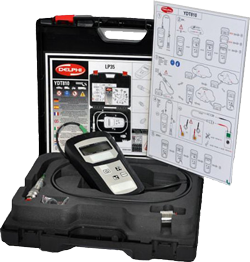 Delphi YDT810 Low Pressure System Diagnostic Kit
Covering LD, MD and HD applications and various systems including fuel, oil, additives and air.
Designed for the diagnostic technician the YDT810 is a highly precise, fast and cost effective hand held tester for the low pressure circuits of any vehicle. Technicians now have the ability to perform quick and accurate analysis across a wide range of positive and negative pressures with just one tool.
Product Overview
The YDT810 measures pressure as from -1 up to 35 Bar. This gives the technician a wider range of pressure measurements compared to entry level tools currently on the market, so making the tool compatible with most of the low pressure circuits of any vehicle. This kit eliminates the need for multiple separate tools of various positive and negative pressure ranges, saving the workshop time and money.
Consisting of a very accurate electronic pressure sensor, the high resolution electronic device provides instantaneous pressure values. Given its compact design, it can be used in STATIC mode to diagnose problems ranging from air in the fuel circuit to an insufficient pressure output. However, as failures are often erratic and appear only under real driving conditions, the YDT810 has also been designed to help the technician perform any low pressure circuit diagnosis in DYNAMIC mode, making it possible to monitor instantaneous pressure and detect failures that occur only during a road test.
Features and Benefits
Covering all the low pressure circuits on a wide variety of vehicle systems and using the existing Low Pressure Connectors 9109-947 and 9109-951 the YDT810's capabilities include :-
Diagnosis of blocked filters
On-road dynamic testing
Circuit integrity – diagnose the presence of air
Adaptable to various fluids – fuel, oil, additive and air
One sensor to cover a wide range of pressures from -1 to 35 Bar
Negative and positive pressure measurement with an accurate display
Application Coverage *
Designed to cover Light Duty, Medium Duty and Heavy Duty applications, the tool provides accurate pressure analysis for all low pressure circuits. With one tool, the technician can diagnose :-
Feed pump circuit
Fuel pump circuit
Fuel return circuit
Turbocharger
SCR system
Common Rail
GDI
* Depending on the vehicle being tested, specific additional connectors may be required which are not included in the kit