Portable Common Rail Diesel Test Kit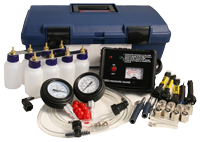 Portable Common Rail Diesel Test Kit
Common rail diesel systems are rapidly increasing in the market, with all new diesel vehicles being equipped with a Common rail diesel system there is an increasing opportunity for you to offer a test and repair facility.These systems run at extreme pressures and require exact settings to operate at optimum efficiency.
Testing and repair of a common rail fuel system requires special diagnostic tools to carry out the necessary tests and confirm areas where faults exist.
The CRDi provides accurate diagnostics of many areas of the diesel fuel system essential to correctly diagnose where faults exist. Modern vehicles are equipped with onboard self test facilities which can be read by many scan tools, however, this does not cover the mechanical parts of the system such as the fuel supply lines. Also, before replacing diesel injectors or pumps it is advisable to carry out additional checks to confirm the diagnosis.
The CRDi provides accurate diagnosis of many areas of the diesel fuel system including injector leak back and imbalance, high pressure pump results and low pressure or vacuum supply lines and primer pumps. The CRDi covers Delphi and Bosch fuel systems on a huge range of vehicles and comes complete with all necessary parts to connect to the vehicle.
Benefits
Bosch & Delphi compatibility
Identify faulty components
Carry out on-vehicle testing
Measures injector back leakage
Measures pump high pressure
Tests low pressure fuel supply system
Tests vacuum fuel supply system
Tests pressure control valve
Confirmation of diagnostic fault codes
Non-invasive electrical connecting
Function Tests
Injector Back Leakage
Carry out both static and dynamic tests
Measure volume of back leak on injector to test for abnormal levels or excessive signs of wear
Diagnose injection imbalance by comparing individual injector volumes
Low Pressure Tests
Carry out low pressure test with gauge supplied in fuel line between tank and high pressure pump
Tests operation of electric fuel pump, supply pipework and filter system for blockage
Vacuum Tests
Carry out vacuum test with gauge supplied in fuel line between fuel tank and high pressure pump
Test vacuum ability of high pressure pump, fuel lines and filtration system for operation or blockage
High Pressure Tests
Carry out tests on high pressure pump to ensure correct pressure delivery and the availability of maximum pressure
Tests operation and outputs of high pressure pump, pressure sensor and pressure regulator valve
Kit Contents
Tool Case
High Pressure Gauge Set
Adapter Connectors (Delphi Old, Delphi New, Bosch)
Low Pressure Gauge
Vacuum Gauge
Plug (For Bosch)
Plug (For Delphi)
Ford Adapters (x4)
Dummy Resistor
Connection Adapter (x2)
Connection Adapter with Hose (x2)
Fuel Filter Plug (x2)
Dust Cap
Flask & Holder
Injector Return Hose Adapter (x8)
Gauge Connection Tube
Flushing Tube (x8)
Block Tube
Downloads
Warnings
High pressures are developed in Common Rail systems. Necessary precautions should be taken.
Dirt particles introduced into the fuel system can damage pumps and injectors. Ensure you always carry out repairs in a clean environment.