Bosch KTS590 Diagnostic Interface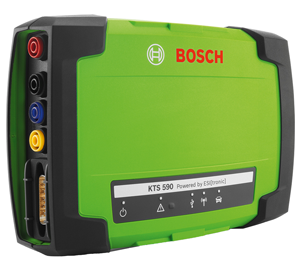 Special Offer
Normal Price £2650.00
£2395.00 + VAT
Bosch KTS590 All Makes Diagnostic Interface with DOIP and 2 Channel Scope
The new and exciting Bosch diagnostic interface leading the aftermarket with enhanced ECU diagnosis for DoIP with the added benefit of a two channel oscilloscope.
The Bosch KTS590 is the new and latest Bluetooth diagnostic interface with 2 channel oscilloscope that supports all of todays relevant diagnostic protocols. It offers the highest level of software working with any Windows based PC and the world renowned Bosch diagnostic software ESI[tronic] 2.0.
This new interface offers simultaneous parallel CAN channel communication and is PassThru enabled, working with many OEM softwares including Jaguar Land Rover, VAG, Mercedes-Benz, BMW, Volvo and Vauxhall, with others to follow.
The Bosch KTS590 is the first aftermarket diagnostic interface to work with Diagnostics over Internet Protocol (DoIP), ensuring that communication to vehicles is possible as OEMs develop this technology in the future. The ability to communicate at variable speeds using IP baud rate (speed of data transfer) gives the new generation KTS the advantage of being able to process the data using new protocols which has previously not been possible.
The KTS590 includes a 2 channel multimeter and oscilloscope and can test sensors and signals generators quickly and effectively, as well as measuring voltage, resistance and current easily and efficiently.
Features
Supports "Easy Connect" and other Bosch vehicle specific adapters
Enhanced measurement technique included to support diagnosis and vehicle repair
Enhanced ECU diagnosis for DoIP (Diagnostics over Internet Protocol); the first product in IAM with this feature
Parallel or simultaneous diagnosis possible for a faster overview and reading of values
LED display
Measuring all actuators and sensors in the vehicle
Multimeter measurements during guided trouble-shooting with automatic transfer of measured values
Both oscilloscope channels are isolated
Sampling rate: 20MS/s
Intelligent and future-proof thanks to internal OBD interchangeable adaptor
Universal OBD plug: Allows connectivity to vehicles with 14 V and 28 V vehicle electrical systems
Clear communication thanks to multiplexer and cable adaptor recognition: K and L line, SAE and CAN can be switched to all possible terminals on the OBD plug
Reliable multiplexer actuation Automatic control unit search function
Integrated OBD interchangeable adaptor
Demo mode allows the 590 to be used without a vehicle connected
Resistance measurement with extended measuring ranges
Continuity tester for fault localisation
Diode measurement for component testing
Voltage measurement with enhanced measurement functions
Bluetooth Class 1 standard with a range of up to 100 m
Fully Passthru compliant
Operating systems: Vista Home Premium, Vista Business, Windows 7, Windows 8
Powered by ESI[tronic] 2.0
2-channel multimeter & 2-channel oscilloscope
KTS590 part number: 0 684 400 590
Technical Data
KTS590 KTS590 2-channel multimeter & 2-channel oscilloscope
Connections to PC USB 2.0, Bluetooth® Class 1
Weight approx. 0.5 kg
Operating voltage 8V DC-28V DC
Dust and water protection IP53
Multimeter bandwidth 100 kHz
Oscilloscope sampling rate 20 MS/s
Vehicle protocols ISO 15031, ISO 22900, SAE J2534-1 and -2 (PassThru), ISO 9141-2 (K and L), SAE J1850 VPW and PWM, CAN High Speed ISO 11898, ISO 15765-4 (OBD), CAN Single Wire, CAN Low Speed, ISO 13400 (Diagnostics over IP), and other vehicle-specific protocols
Scope of Delivery
OBD connection cable (1.5 m)
Power supply unit
Test lead/probe set
USB connecting cable (3 m)
Trolley mounting parts set
Bluetooth® USB adaptor
Storage case
Click here to download the Bosch UK Price List
Software
Bosch software is renowned across the world as the best diagnostic information available. In addition to the SD diagnostic software that runs the KTS platform there are other very valuable software packages to enhamce your diagnostic experience.
SIS - Diagnostic trouble shooting and repair information with 4 updates per year
M - Vehicle mechanical and service information
P - Vehicle wiring diagrams for body electrics
TSB - Technical service bulletins
EBR - Experienced based repair
SDA - Bosch Secure Diagnostic Access
For software options for the KTS570 and KTS540, visit our Bosch Software Page