Bosch FSA740 & FSA760 Motor System Analyser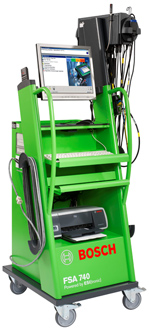 Universal vehicle system analysis with innovative sensor test
Detecting faults quickly and reliably
In modern motor vehicles, the proportion of electrical and electronic vehicle components is constantly rising. This development provides new challenges to the workshop.
Fast, error free fault location is of major importance to the workshop with regard to quality and economy. For this purpose, the new vehicle system testing generation from Bosch provides the diagnostics platform of the future.
Full functionality of the FSA series is dependent on a subscription to Compacsoft[plus] Software Available at £255.00 per Year
To order, please contact our sales desk on 01823 328531
Complete system for effective diagnostics
The vehicle system analysis FSA740 offers the workshop a universal diagnostics system.
The signal generator: new and only with FSA from Bosch, permits the testing of sensors including leads and connections when installed
Component testing: the new FSA component test program developed by Bosch is used to accurately pinpoint problems. The measurement scales and ranges are automatically selected for each component being tested. The test procedure can be conducted without the need to remove the component. Therefore time is saved by eliminating unnecessary component removal.
Engine test: the FSA measurement module, with it's extensive range of sensors, can mange all the functions of classical engine analysers for measuring engine-related signals, such as primary and secondary ignition signals, triggering signals for ignition module, engine speed, No. 1 cylinder synchronisation and setting the ignition timing.
Control unit diagnostics: the ECU diagnostics tester KTS540 is included in the equipment supplied. It permits reading out of fault memories in the vehicle electronics system, and locating the causes of a problem. (requires an ESI[tronic] subscription. For more info on the KTS540, click here.
The modular system layout also ensures that the FSA can be adapted to existing diagnostic systems and can be expanded step by step to a comprehensive workshop testing system.
PC system of individual components optimally tuned to one another
Apart from the FSA measurement module and the sensor equipment, the FSA740 also includes a high performance PC system with a non-dazzling, easy to read TFT monitor, remote control and printer.
FSA760
The FSA760 is as the FSA740 above, but includes a fluid pressure kit to measure low pressure side of the fuel supply.
Full functionality of the FSA series is dependent on a subscription to Compacsoft[plus] Software Available at £255.00 per Year
To order, please contact our sales desk on 01823 328531