Bosch FSA720 Motor System Module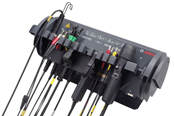 A new module for the diagnostic system
The modern, high speed measurement technology in the new FSA generation from Bosch forms the diagnostics platform of the future. The modular system layout of the FSA720 secures existing investment in the workshop. Existing diagnostic systems may also be used.
If the workshop already has a device from the KTS series - whether it is a 550/520 or one of the new 570/540 - and a PC, the system can be upgraded with the FSA720 to create a comprehensive workshop test system.
The FSA720 includes :
Measurement module with sensor carrier
Installation bracket and sensors for adaptation to vehicle
A PC or laptop is required to operate the FSA720.
Full functionality of the FSA series is dependent on a subscription to Compacsoft[plus] Software Available at £255.00 per Year
To order, please contact our sales desk on 01823 328531
From the classical engine test...
As with the tried and tested predecessors, the new tester generation can deal with the classical engine test for measuring engine-related signals, e.g ignition signal, ignition angle or oil temperature.
... to component testing with innovative software
The decisive element of progress in the new tester generation for the workshop are the new testing options for electrical and electronic components. In this area, FSA720/740 and 750 offer a large number of new and efficient applications with comprehensive software support.
Long term measurement
The 24 hour measurement of the battery peak coil current on vehicles with extensive electronic equipment provides information on "secret consumers" and, in this way, finds the causes of frequent starting problems.
Extensive sensor equipment
Apart from the actual measurement module, the Bosch system tester FSA720 also includes an extensive range of sensors. Ten sensor slots and a free slot for future sensor technology still unknown, allow effective work without continuous sensor changing.
Examples of innovation and user-friendliness
Test CAN bus: the workshop can now carry out a physical performance test of the fast CAN bus systems in the vehicle - practically not possible up to now because of the high communication speeds.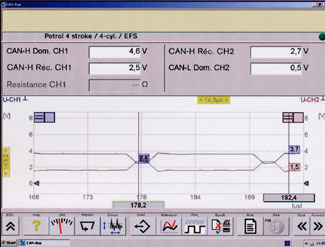 Versatile signal generator: for testing sensors, including supply and plug-in connections. In this way, it is possible to tell whether an ECU, a feed, a plug-in connection or a sensor is defective. This allows efficient fault elimination without replacing parts.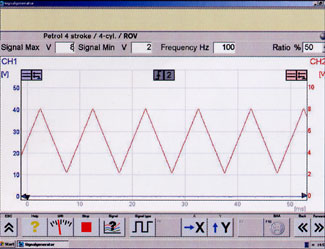 High performance universal oscilloscope: the scanning rates of the new universal oscilloscope of the FSA720/740 reach up to 50 MHz. This provides a sufficient reserve of the future for testing vehicle components.