PicoScope Accessories
PicoScope Accessories
The following accessories are available for the PicoScope kits. Please note that all accessories are subject to a 3 day order delay.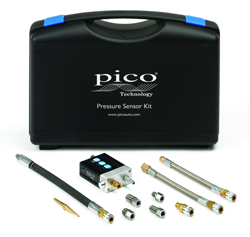 WPS500X Pressure Transducer Kit
With the uncompromising resolution and accuracy of the WPS500X Automotive Pressure Transducer you can perform quick and accurate pressure analysis of many automotive systems.
Accurately measure up to 500 psi
Ultra–fast 100 µs response time
Zoom function for enhanced analysis capabilities
Internal rechargeable LiPo battery
Integrated pressure relief / bleed–off valve
Auto zeroing
High noise immunity
Temperature compensated
The WPS500X features an extremely fast 100 µs response rate from 0% to 90% of full scale and sensitivity down to about 0.07 psi (5 mbar). This provides you with an accurate representation of rapidly changing signals that span across a broad pressure range.
This kit contains:
WPS500X pressure transducer
Carry case
USB cable
BNC to BNC cable
TA083: Fuel hose with large Schrader valve
TA117: Fuel hose with small Schrader valve
TA085: Vacuum hose
TA086: Bleed hose
TA087: Exhaust adapter
TA088: M14 high–strength compression hose
TA103: M10 high–strength compression hose
TA105: Ford Triton compression hose
TA129: Universal vacuum adapter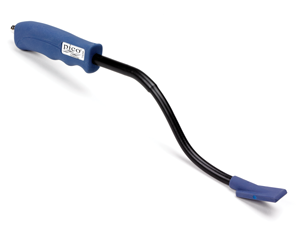 Coil On Plug Ignition Probe
The TA204 coil-on-plug (COP) and signal probe from Pico Technology is the fastest way to check coil-on-plug ignition coils and spark plugs.
Features
Find misfires fast
Displays scope patterns of the secondary, faster than scoping the primary
Works on all automotive scopes capable of displaying ignition patterns
Can also be used to investigate injectors and other inductive actuators
Flexible design allows for easier access to hard-to-reach components
No batteries required
Like distributors, spark plug wires are starting to disappear from cars. With the new COP ignition systems the ignition coils are connected directly to the spark plugs — eliminating the need for the spark plug wires. With no high-voltage spark wires, a COP probe is required to be able to pick up the secondary ignition waveform.
As standard the TA204 COP probe is supplied as a kit (PP357) complete with the TA033 BNC to BNC cable in order to connect to your automotive scope.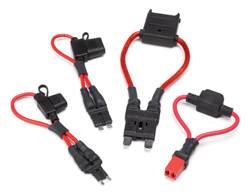 Fuse Extension Leads Kit
Fuse extension leads are a simple accessory that can save you valuable time.
Fuse extension leads are quick and easy to use: simply remove the fuse (of the circuit you wish to test) from your fusebox and replace it with a fuse extension lead. Now insert the fuse into the extension lead. To measure the current drawn, just connect your Pico current clamp to the extension lead.
4 fuse extension leads are supplied, allowing you to use the leads with ATC, mini-ATC, JCASE, and Maxi style fuses.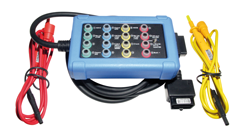 CAN Test Box
The CAN Test Box gives you easy access to the 16 pins of the diagnostic connector that is fitted to all modern vehicles. Depending on the configuration of the vehicle, this may allow you to check power, ground and CAN Bus signal quality.
With the test leads supplied you can connect your PicoScope automotive scope, or any other suitable scope, to the CAN Test Box to monitor any signals present, such as the CAN High and Low signals.
The CAN Test Box connects to a vehicle᾿s OBDII / EOBD connector and lets you easily diagnose electrical faults.
Instantly check power and ground circuits
Identify communication link protocols
Connect an oscilloscope for signal capture and collection of signal waveform data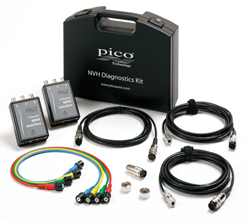 Pico 3-Axis NVH Diagnostic Kit
The cost-effective tool for real-time NVH diagnosis.
Includes both a 3-axis accelerometer and a microphone
Full screen, high-resolution results are presented clearly and accurately
No external memory required – saves directly to laptop or PC
Record up to 500 seconds of data
Automatic analysis
Detects multiple vehicle vibrations
Customer report function
Plugs into your Automotive PicoScope® (sold separately)
Please note
The NVH kit from Pico Technology only works with our Automotive PicoScopes, and requires an unlock key in order to allow your PicoScope to work with the NVH software. Once you receive your NVH kit, please follow the instructions within the kit to obtain your unique key. This unlock key is limited to one PicoScope Automotive scope and is not transferable. Supported PicoScope models are 4425, 4225, 4423, 4223. RPM data may be taken from a J2534 Scan Tool or VCI (not included).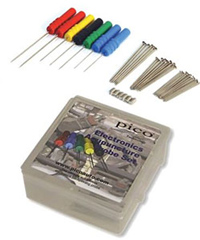 Back Pinning Probes
First and foremost the TA008 is a back pinning probe. In fact, it's the smallest diameter back pinning probe that we know of. This is essential for probing today's small, fragile connector. It is also very sharp, so it slides past connector seals with ease.
This product solves most of the problems associated with traditional back–pinning methods.
The TA008 is a piercing probe
Secondly, the TA008 is a piercing probe. Its small diameter, extra sharp pin makes it ideal for piercing the insulation on small gauge wires where traditional piercing tools might cause damage.
The TA008 is field repairable
And finally, here's the best part. Don't you just hate it when you are using a back pinning probe and it bends or breaks? Before the TA008 came along, this meant that you had to buy a whole new back–probe. Not with the TA008; it's repairable. If the pin becomes damaged or useless in any way, simply take your pocket screwdriver, remove the set screw, pull out the old pin and install the new one! There's no need to replace the whole probe.
Contents:
5 Complete Backpinning probes
5 Screws
30 Replacement needles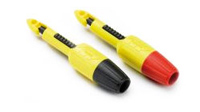 Insulation Piercing Clips
The TA007 Insulation Piercing Test Clip set is ideally suited for automotive test and diagnosis.
The piercing clips allow the user to provide the exact pressure needed to pierce the insulation of a wide range of wire types and sizes. The clips also feature a rotating banana jack that prevents the test lead from twisting and keeps the oscilloscope in the circuit while the wire is pierced, providing immediate confirmation that contact with the conductor has been made.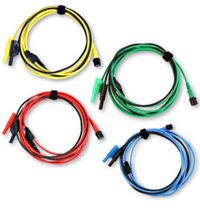 Premium Test Leads
You've got the best oscilloscope, now get the best leads!
Our premium leads are colour–coded so that the colour of the lead in the engine bay matches the colour of the on–screen waveform in PicoScope Automotive — never again will you waste your time wondering which lead is what.
Like our standard test leads, the premium leads are fully screened to minimise noise pick–up so you can have complete confidence in the signal that you are measuring.
3 m / 10 ft long
Fully shielded
Insulated BNC at scope connection
Shrouded/stacking banana–plugs
Removeable ground extensions†
† Except TA125