Remote and Aerial Testers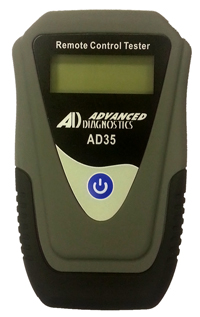 AD35 Remote Control Tester
The AD35 Remote Control Tester from Advanced Diagnostics has been developed to assist with the diagnosis of all types of (IR) Infra Red and (RF) Radio Frequency remote controls.
AD35 can be used on most makes and models of vehicles including boats and trucks worldwide - and is simple and easy to use. Simply place the remote control below the LCD screen and press a button on your remote key fob, a signal will be sent to the AD35 and a numeric frequency will be displayed on the LCD screen.
This is essential for imported vehicles and systems, as there are various remote frequencies used acrosss the world. By using AD35, this question can be quickly answered and will save you valuable time when diagnosing remotes.
If you already have AD key programming equipment, AD35 is an essential addition for your tool kit and will earn its keep within a few jobs.
Technical Features
Battery Operated - 3 X AA
Weight - 130 Grams
Size - 84mm(W) x 140mm(H) x 29mm(D)
Current Consumption - 25 mA
LCD - 35 Numerical Backlit LCD Display
Accuracy + / - 5%
Frequency Range 100Mhz to 1000Mhz
Auto Power Off - Approx One Minute
Functionality
Test Radio Frequency Remote Controls (RF)
Test Infra Red Remote Controls (IR)
User Friendly & Portable
Can be Used On All Makes Of Vehicles Worldwide Including Boats & Trucks
Rear Magnet - For Secure Storage During Jobs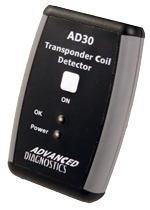 AD30 Coil Detector
The AD30 Transponder Coil Detector has been designed to assist with the diagnosis of all Immobiliser systems using transponder technology.
One of the critical components of an immobiliser system is the coil or antenna fitted around the ignition barrel. When diagnosing problems with the immobiliser system, there is always the question of "is the immobiliser antenna transmitting a correct signal to power the key transponder".
Now, by using the AD30, this question can be quickly and easily answered, saving valuable time and money.
The AD30 is placed near the ignition barrel in the steering column and provides a visual and audible indication of antenna power. Additionally on certain vehicles, by switching the ignition on, a further indication of a transponder signal being sent by the ignition key and received by the antenna can also provided.
If you already have Key Programming equipment the AD30 is an essential addition to your tool kit!
Features
User friendly & portable
Powered by PP3/9V battery
LED power on indication
LED antenna/transponder indication (certain models)
Auto power off function
Can be used on all makes of vehicles
Tests all types of coils/antennas
Tests all types of fixed/rolling code transponders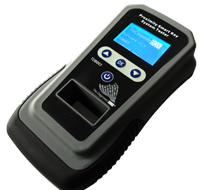 TDB003 Proximity / Smart Key Systems Tester
The TDB003 Proximity/Smart Key Systems Tester offers a simple and cost effective way to diagnose and test problems relating to the vehicle immobiliser system, which is made up of a number of components.
The TDB003 enables the transponder key, remote control operation, external vehicle antenna transmitters, internal vehicle antenna transmitters and transponder antenna to be fully tested to ensure that all parts of the system are working.
The TDB003 can display signal levels, frequency measurements, signal waveforms and a number of other useful features.
Features
Standard transponder key test
Infra Red (IR) remote control test
Radio Frequency (RF) remote control test
Proximity / Smart key test
Proximity / Smart vehicle antenna transmitter test
Proximity / Smart key signal amplitude level indication
Transponder frequency indication
Oscilloscope waveform function (FAST and SLOW)
Proximity / Smart key system scan modes
Audible signal indication
Transponder vehicle antenna test
Download the TDB003 User Manual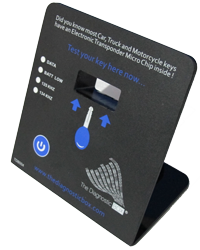 TDB004 Counter Top Transponder Key Tester
The TDB004 has been designed to promote Transponder Key business in shops and point of sale locations.
The TDB004 offers customers a chance to test their transponder key, and for you to explain what the implications are for having a transponder key and thus offering them a spare.
The unit can also be used to prove to customers that there is an electronic transponder located inside the key and educate them in the cost of lost keys.
The unit works from batteries or a mains 5 volt power supply, for additional flexibility in and around the shop.
The device will display the frequency of the transponder and also if there is data transmitted, and gives an audible sound when it detects a transponder.
Features
Battery or mains powered
User friendly and portable
Can be used on ALL Makes of vehicles, boats, trucks and motorbikes keys
Test 134 KHz Transponders
Test 125 KHz Transponders
Tests Fixed and Crypto Transponders
Low cost
Time saving
Simple to use
Download the TDB004 User Manual
The Ultimate Immobilser Test Kit
Purchase the AD35 Remote Tester, the AD30 Coil Detector and the TDB002 Transponder tester for a special pack price.

Sealey IR & RF Key Fob Tester
Detects and confirms radio frequency and/or infrared emission from key fobs and remote controls
Helps diagnose faults quickly and easily without the need to dismantle the fob, remote or vehicle
Magnetic backing sticks to the side of any ferrous surface making distance test of transmitter a possibility
Suitable for a wide variety of vehicle and electronic/electrical applications
Suitable for detecting new BMW frequencies
Powered by 9V battery (not included)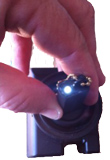 Mercedes Ignition Tester
A quick and easy way to confirm the operational readiness of all slot type Mercedes keys.
Quickly indicates vehicle fault by a visual indication.