VAG Force Ignition Tool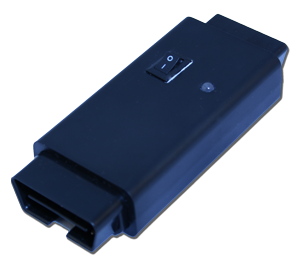 VAG Force Ignition Tool
The Force Ignition tool for VW, Audi, Seat and Skoda has the ability to force the ignition on without an ignition key and also test the OBD socket wiring for power and faults.
Just plug the tool into the OBD on the car and press the test button and it will tell you if there is power and earth to the socket, as well as detecting a short in the vehicles OBD socket. Also, using this VAG tool it is possible to force the ignition on (Terminal 15) in VAG vehicles from the OBD diagnostic port.This will allow you to wake up the control units in the vehicle and establish OBD communication without having a key.
It is fitted with an OBD male port on one end and a female port on the other end which enables you to continue to use the diagnostic port in conjunction with this product. The K-Line and CAN connections pass through the device and are available for communication. A switch is fitted to toggle the ignition ON/OFF and LEDs confirm the presence of power and ignition status.
Models Covered
VW Touran 1T
VW Golf 1K
VW GOLF 5M
VW EOS 1F
VW PASSAT 3B
VW TOUAREG 7L
VW PASSAT 3C
VW TIGUAN 5N
VW POLO 9N
VW JETTA 1K
VW CADDY 2K
VW LT35 2D
VW TRANSPORTER 7H
VW SCIRROCO 13
VW BEETLE 1Y
VW SHARAN 7M
VW FOX 5Z
VW POLO 6R
AUDI A3 8P
Audi A4 8E
Audi A6 4F
Audi Q5 8R
AUDI Q7 4L
AUDI TT 8J
AUDI A8 8K
Bentley 3W
Porsche 9P
Skoda Fabis 6Y
Skoda Octavia 1Z
Skoda Roomster 5J
Seat Ibiza 6L
Seat Alhambra 7N
Seat Altea 5P
Seat Leon 1P