AutopStenhoj Major 6230-60S 4 Post Lift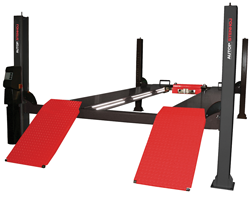 AutopStenhoj Major 6230-60S 6.2 Tonne 4 Post Lift
The AUTOPSTENHOJ Major 6230 Service Lift is an electro-hydraulic four post service lift with 5500mm platforms.
All AUTOPSTENHOJ Major lifts are fitted with an eccentric brake and an obstruction system with alarm. The platform on the right hand side of the lift is also adjustable for extra wide/narrow vehicles.
ALL AUTOPSTENHOJ lifts are led through a sling purifying plant (according to SA2.50 – ISO-Norm 8501-1:2007), dipped in primer and finally led through an electrostatic powder bake plant.
AUTOPSTENHOJ Lifts are manufactured in Denmark
Technical Specification
| | |
| --- | --- |
| Lifting capacity | 6200kg |
| Lifting / lowering time | 48 seconds / 58 seconds |
| Minimum height | 170mm |
| Maximum height | 1840mm |
| Platform length | 6000mm |
| Platform width | 630mm |
| Width between platforms (adjustable) | Yes (725mm – 1210mm) |
| Motor size | 3 kW |
| Power required | 3 Phase – 16a isolator required |
| Operation | Electro-hydraulic |
Call us now on 01823 328530 for more details