Air Brake NanoLeak Finder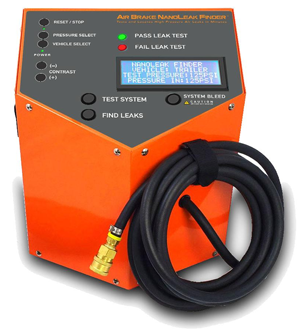 Air Brake NanoLeak Finder
The Air Brake NanoLeak Finder™ quickly tests and precisely diagnoses high pressure Air Brake, Air Suspension, and Air Powered Accessory System Leaks with 100% reliability.
Test: With a simple, 1-minute test cycle, the Air Brake NanoLeak Finder™ will flash a clear green/red, pass/fail light indicator for fool proof testing, regardless of technician and truck variables.
Find: The patent pending technology creates a signature air, that in conjunction with the NanoLeak™ Handheld Leak Locator, pinpoints the precise location of all air brake and air powered system leaks instantly.
Accuracy: Only the Redline Air Brake NanoLeak Finder™ can tell you with 100% certainty whether a vehicle, tractor or trailer meets US DOT Standards or risks being take out of service.
Simplicity: Engineered with safety in mind, even a relatively inexperienced technician can reliably test every vehicle, quickly pinpoint the site of the problem with 100% certainty, freeing more experienced techinicians to make repairs.
Air Brake NanoLeak Finder™ comes with a complete professional accessory kit including:
One detachable 12V DC Power Cable (97-0164/B)
Two OEM-Approved NanoLeak Solution 8 fl. oz. (96-0761)
1/4" NPT Outlet Hose Adapter (male thread) (11-0061) used to access wet tank at drain/plug port (2 included)
Gladhand Adapter - Emergency Side (96-0753)
Gladhand Adapter - Service Side (96-0754)
NanoLeak™ Handheld Leak Locator (96-0116) - used to detect minute amounts of NanoLeak Signature Air
all inside a durable plastic case.
Call us on 01823 328531 For A Quotation
Air Brake NanoLeak Finder™ offers the following features:
Quickly tests and precisely locates high pressure Air Brake, Air Suspension, and Air powered system leaks with 100% reliability
Utilizes test pressure up to 9.3 BAR (up to 135 psi)
Professional grade equipment comes with all accessories needed to work
Runs on compressed air and 12V DC
Weighs only 8.16 Kg (18 lbs)   
Downloads