Speed Smoke Leak Detection Machine
Redline's Latest High Pressure Smoke Tester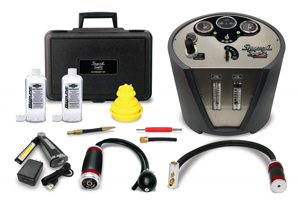 The first diagnostic leak detector of its kind
Both High & Low pressure testing available in one unit. High pressure testing means you can now test boosted turbo or supercharged systems and components to find even the smallest of leaks.
Speed Smoke allows you to test:
Turbo / Boost Leaks
Charge Air Cooler Leaks
Exhaust System Leaks
Wind and Water Leaks
Cabin Leaks
Intake System Leaks
Seals, Gaskets, Hoses, Fittings Etc.
The first diagnostic leak detector of its kind, SpeedSmoke™ was designed to address the requirements of turbo charged engines. SpeedSmoke™ has full featured diagnostic capability to pinpoint faults in naturally aspirated engines and also pinpoint high pressure turbo, diesel, supercharged, boost leaks with 100% reliability.
SpeedSmoke™ creates a dense, easily visible vapor with variable pressure up to 20 times the PSI and 40 times the flow of traditional smoke machines to allow technicians to simulate the boost load of a running engine, with the engine safely off.
SpeedSmoke™ also features an onboard micro air compressor for total portability and includes all needed accessories. This machine is engineered with the same technology that has been mandated essential by OEMs in 114 countries around the world including General Motors, Mazda, Subaru, Nissan, INFINITI, Jaguar Land Rover and more. SpeedSmoke™ is Made in America.
SpeedSmoke offers the following features:
For use in both low pressure EVAP applications and high-pressure turbo, diesel engines
Variable Pressure | Variable Flow
Up to 20x PSI and 40x flow of a typical EVAP machine
Onboard Micro Air Compressor
Runs on 12V DC Power
Free of Dyes & Contaminants Image speedsmoke with acc off redile site
Made in America
Included in the Box
1x Speed Smoke
1x Accessory Storage Case
1x 1.9" Power INTAKE™
1x LED Cordless Light
1x Smoke Producing Fluid
1x Easy INTAKE™
1x EVAP Service Tool Kit
1x Cap Plug Kit
1x EVAP Quick Connect Hose for Speed Smoke
Technical Specifications
| | |
| --- | --- |
| Dimensions | 14 in x 9 in x 15 in (35 cm x 23 cm x 38 cm) |
| Weight | 27 lbs (12.25 kg) |
| Power Supply | 12V DC |
| Pressure Supply | Internal Pump or External Compressed Air |
| Output Pressure (EVAP) | 11 - 14 in wc / 0.47 PSI / 0.032 BAR |
| Output Pressure (TURBO) | 2-17 PSI (.14 - 1 BAR) |
| Operating Temperature | 0°F to 140°F (-17°C to 60°C) |
| Operating Humidity | No Restrictions |
| Operating Altitude | No Restrictions |
| Operating Modes | Vapor Cycle / Air Only Cycle |
| Housing Material | Steel/High Impact ABS Plastic |
| Vapor Chamber Material | Billet Aluminum |
| Vapor Chamber Assembly | Bolted |
| Vapor Chamber Warranty | Lifetime |
| Speed Smoke™ Warranty | 1 Year |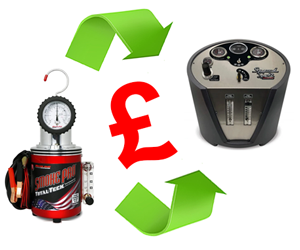 Smoke Pro TT to Speed Smoke Upgrade
Have you got an original Smoke Pro Total Tech? Are you now looking for a High Pressure leak detector?
Upgrade from your Smoke Pro Total Tech to the brand new Speed Smoke and receive a £300 + VAT discount.
Send us your Smoke Pro Total Tech and receive a brand new Speed Smoke kit for only £1695.00 +Vat
Contact us on 01823 328531 For Details