Smoke Pro Diagnostic Smoke Machine
The Industry Standard Smoke Leak Detector
Exclusive to Hickleys - Now Supplied with 2 Years Warranty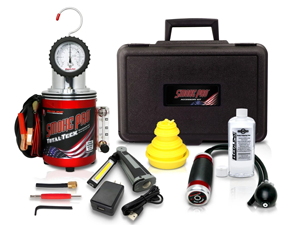 The Industry Standard Smoke Leak Detector
The Smoke Pro EVAP APPROVED Diagnostic Smoke Machine is the most advanced product available today.
Save Time & Generate Revenue
Few tools can save more time or produce more revenue. The Smoke Pro diagnostic smoke machine quickly pin-points leaks in the entire system and brings your attention to problems you may not have considered. This ensures a complete repair and a satisfied customer.
Smoke Pro is the essential tool for finding EVAP system leaks and many others, including:
EVAP Systems
EGR Valves
Gaskets, Fittings & Hoses
MAP/MAF Sensors
Worn Throttle Shafts
Brake Boosters
Catalytic Converters
Central Locking Systems
Diaphragms & Seats
Door & Window Seals
Turbos & Intercoolers
Oil Leaks
Cracked or Broken Plastic Components
Head & Tail Lamp Housings
Cracked Manifolds………And Many More!
Air Safe Design - No Nitrogen
Smoke Pro utilises an advanced design with computer control and does not use glow plugs. The Smoke Pro diagnostic smoke machine tests EVAP systems with air similar to the method used by a vehicles' onboard Leak Detection Pump (LDP). It is not necessary to use expensive and bulky nitrogen systems when operating a Smoke Pro.
Smoke Pro produces smoke using food grade or medicinal white mineral oil (common baby oil*) and does not require costly smoke solution changes.
Watch the Videos
For a detailed demonstration of what the Smoke Pro smoke machine can do for you, please visit our  Smoke pro Videos Page.
Smoke Pro Total Tech
This tool is designed for serious shops and technicians. It is the most advanced smoke machine available to date.
This advanced design eliminates the need for nitrogen when testing an EVAP system. The Total-Tech™ operates on White Medicinal Mineral Oil H-1 (baby oil) and does not require annual oil changes.
The Total-Tech™ utilizes two stage regulation to precisely deliver smoke or air at the approved EVAP test pressure of 12–14 inches of water column. The Total-Tech™ provides the operator with a pressure gauge as well as a flowmeter. These components allow the technician to test any system using pressure decay in seconds, and to visually detect the rate of leakage on the flowmeter.
The Total-Tech™ also incorporates a Flow Control Valve. This valve also allows the technician the versatility to pinpoint a leak without the masking effect of excessive smoke. The Total-Tech's™ compact design allows the unit to hang under the hood or chassis during testing.
Machined from billet aerospace aluminum and stainless steel, the Total-Tech™ is made in America and unconditionally warranted for one full year.
General Specifications
| | |
| --- | --- |
| Size (H x W x D) in inches  Including 5" High Hook | 15x6x6 |
| Weight (lbs) | 8 |
| Operating Temperature | 0-150°F |
| Maximum Input Pressure | 170PSI |
| Output Flow (LPM) | 15 |
| Power Requirements (Volts) | 12 Vdc |
| Power Requirements (Amps) | 8 Adc |
Included in the Box
1x Smoke Pro® Total-Tech® - Extended Two Year Warranty
1x Easy INTAKE™
1x OEM-Approved Vapor Producing Fluid
1x Halogen Inspection Light 1x EVAP Service Port Tool
1x EVAP Schrader Valve Removal Tool
1x Cap Plug Kit
1x Plastic Accessory Case
For a list of frequently asked questions with regard to the Smoke Pro smoke machines, please see our FAQ page.