Smoke Pro Diagnostic Smoke Machine - Accessories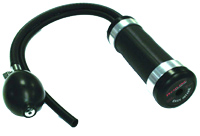 Smoke Pro Easy Intake
An inflatable block off bladder with a pressurized vapour pass-through that allows you to test an entire intake or exhaust system quickly and easily.

Pressure Gauge
The Pressure Gauge is a 21/2" dual scale instrument. Full range is 0 to 30" water column or 0 to 1.1 PSI The gauge is complete with a Redline designed protective rubber boot. Connection is 1/4 NPT with center back mounting.

Additional Smoke Cone
The exhaust cone adaptor fits into the tailpipe to seal the pipe and allow smoke to enter the exhaust system for leak testing. This cone may also be used to access the intake systems of many vehicles. Having an additional exhaust cone is useful when dealing with dual exhaust systems. This cone can be used with any smoke machine.

Extended Accessory Kit
This kit is designed to increase the flexibility of any smoke machine. It includes an extra exhaust cone for plugging dual exhaust systems, a 10 foot extension hose w/nozzle to increase length of smoke supply line and an extra bottle of Smoke Producing Fluid.

Smoke Producing Fluid
230ml Bottle of OEM approved smoke producing fluid as supplied with the Smoke Pro Total Tech, Speed Smoke, Ready Smoke, HGV Fleet, HD PowerSmoke & Power Smoke Pro.

Cap Plug Set
The yellow cap plug set consists of 20 cap plugs ranging from 1/8" to 4" in diameter. These cap plugs may be use to seal open intakes and other openings necessary to perform leak testing. These plugs can be used with any smoke machine.

Complete Accessory Kit
The complete kit includes; Exhaust Cone Adaptor, Cap Plug Set, EVAP Service Port Adaptor w/Schrader removal tool, Halogen lamp and bottle of Smoke Producing Fluid. This kit comes standard in cardboard flip-top box.

Inline Air Pressure Regulator
This custom made regulator has been designed for use in the inlet air supply of the Smoke Pro™. It is tamper proof and preset at 90 PSI. This regulator will protect the flowmeter and increase its sensitivity. To install, simply connect to inlet of flowmeter.

Halogen Inspection Light
This 12 volt halogen lamp is designed for automotive use and is very important in spotting leaks. It features a swivel head and a 20 foot power cable to allow access to the chassis while clipped to the vehicle's battery. This lamp can be used with any smoke machine.

Bulb For Halogen Inspection Lamp
Replacement bulb for the Halogen inspection lamp detailed above.

Replacement 10' Hose
This 10' neoprene hose with nozzle allows the operator to increase the length of the smoke supply line of any smoke machine.

Universal Filler Neck
This universal adapter connects to the fuel filler pipe of most vehicles, allowing smoke testing of the fuel tank and EVAP system.