ReadySmoke Diagnostic Smoke Machine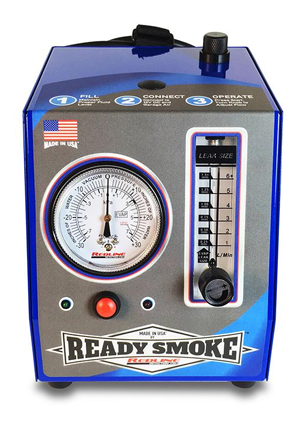 Special Offer
Normal Price £595.00
£295.00 + VAT
ReadySmoke Diagnostic Smoke Machine
NEW ReadySmoke™ is a Made in America quality smoke machine at a great price from the world's leader in diagnostic leak detection.
ReadySmoke™ gives technicians BOTH an affordable smoke machine AND the peace of mind of buying Redline's Made in America quality and legendary customer service. No need to waste time and risk your reputation on cheaply made tools that don't last, with no customer support!
Made in America quality
Compact and portable – sized to fit in a toolbox drawer
Legendary Redline product support
ASE Certified Master Tech technical assistance
Comes with a full accessory kit
Included vapor producing fluid lasts hundreds of tests for low cost of operation
Detachable smoke hose
ReadySmoke™ goes right to work and keeps on working, producing highly visible vapor to find leaks fast. Beware cheap import smoke machines that stop making smoke or overheat and require a cool down, wasting valuable time. ReadySmoke™ vapor is free of dyes and other contaminants. CE Certified for safety.