PowerSmoke Pro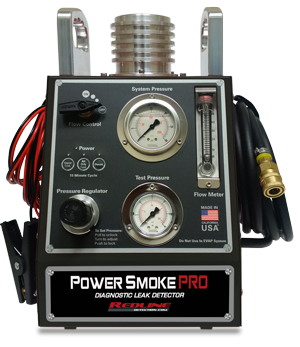 PowerSmoke Pro High Pressure Diagnostic Leak Detector
Click here to see Redline's latest High Pressure Smoke Tester -
Speed Smoke
OEM Approved vapor machine specifically engineered to test the integrity of turbo, boosted, high pressure automobile systems in one quick procedure, with the engine safely off.  This patent pending technology will find all leaks including boost leaks that an EVAP type machine cannot detect (in fact this machine is not to be used in EVAP systems). Developed in collaboration with one of the Big Three auto manufacturers to address the intricacies and proliferation of boosted vehicles.  Redline's patent pending PowerSmoke™ Adaptors expand to seal off the intake and exhaust system of most every automobile and light / medium duty truck.  Variable pressure, variable flow to allow the the technician to replicate a load to pinpoint leaks and find failing components. 
Comes with a complete accessory kit including:
Durable accessory case
PowerSmoke™ Adaptors the fit most every automobile
Smoke nozzle
NOXO2 and temp port adaptors
OEM-Approved Vapor Producing Fluid
Spare quick connect couplers
Halogen inspection light.
PowerSmoke PRO offers the following features:
Specifically for Boosted Automobiles
Variable Pressure | Variable Flow
40X Typical EVAP Pressure
Compact, Rugged Design
Professional Grade Strong
Made with Steel and Billet Aluminum
Runs on Compressed Air 
Powered by 110-250 VAC or 12 VDC
Free of Dyes & Contaminants
2-20+ PSI Range
Performs Decay / Leak Down Tests
Weighs Only 19 lbs. (8.6 kg)