SmartFit Cooling System Tester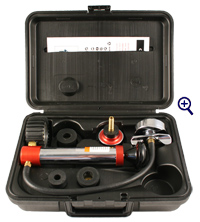 The SmartFit™ Universal Cooling System Test Kit is the universal radiator adapter set with a pressure pump.
It is the complete solution to pressure test 100% of radiators and plastic reservoirs in passenger vehicles and light-duty trucks.
SmartFit™ensures maximum versatility and performance, eliminating the need to buy another adapter. The radiator adapter set expands to fit every vehicle.
Made from the highest quality anodized aluminum and solid brass components, SmartFit™ is a professional-grade tool at an economical price.
Quickly & easily pressure test cooling systems in all vehicles
Fits every radiator and / or plastic reservoir
Varying durameter ratings ensure maximum performance and durability
Includes pressure pump