Bosch SMT 300 Smoke Machine Tester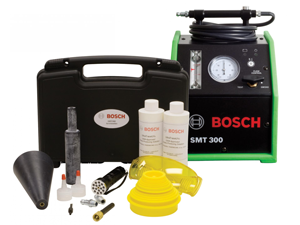 Bosch SMT 300 Smoke Machine Tester
The Bosch SMT 300 smoke machine tester is a full featured device which allows today's shop to perform various types of vehicle leak testing. The compact design and full complement of accessories makes this an ideal fit for any repair shop needing a workhorse of a smoke tester.
Suitable for leak testing of any closed system found on today's vehicles. The size of a leak and its location can be determined in two steps. The device with an optional accessory can be effectively used for investigating leaks in fuel and exhaust systems.
Overview
The Leakfinder can be used to test systems conducting fuel vapors as well as other applications.
You can test closed circuits such as intake and exhaust systems as well as find openings that let in wind and water.
By using the integrated test mode, you can initially test closed systems without smoke and then introduce smoke as needed. You can also control the amount of smoke which makes it easier to find small leaks.
This unit can be used to test the functioning of vehicle systems and avoid damage.
For investigating leaks in fuel systems may only use inert gas (nonflammable, CO2 or nitrogen). An "Inert Gas Pack Kit" (compressed gas canister and adapter) can be ordered separately. The compressed gas canister comes empty and must be filled by an inert gas supplier.
You can also order a 7 bar nitrogen regulator for use with large nitrogen tanks in workshops. A cylinder hose (which can also be ordered separately) is needed for connecting to the SMT 300.
Essential Features
Compact (33 x 30,5 x 33 cm tall)
Lightweight (8,6 kg)
Operates off vehicle (12 V) battery
Full featured machine with graduated smoke flow control valve, air flow meter, and pressure/vacuum decay gauge
Full complement of accessories with storage case
Multi-purpose tester designed for leak detection in any low pressure closed system; usable to pinpoint wind and water leaks of passenger and trunk areas
OEM approved smoke test technology
Designed for safe use in any vehicle; will not damage vehicle components or void any factory warranty
Uses UltraTraceUV® dye solution to create Diagnostic Smoke®; the only OEM approved solution
Dye deposit is UV light-traceable (light included w/kit)
Scope of Delivery
Leakfinder SMT 300 with hose and nozzle
Canister UltraTraceUV®
Cap plugs kit
Adapter Cone
Smoke distributor
Combined light with glasses
Schrader remover/installer
Technical Data
Operating pressure 0.035 bar
Compressed air connection 3.4 – 12 bar
Power supply 12 Volt DC
Weight Approx. 8.6 kg
Hose length 2,400 mm
Tank for UltraTraceUV® smoke solution