Sealey Supermig 180amp Mig Welder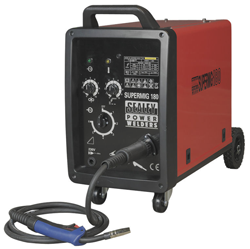 Sealey Supermig 180amp Mig Welder
All Sealey Supermig® models are suitable for welding with CO2, Argon or CO2/Argon mix. Each uses a Forced Air Cooling System to slow transformer heating in order to increase duty cycle. A non-live torch is fitted to prevent the risk of accidentally striking an arc. Model No. SUPERMIG180 and above are supplied with an industrial Argon/CO2 regulator.
Features
Professional MIG Welder 180Amp 230V with Binzel® Euro TorchExcellent continuous performance on car panel thickness material.
Forced-Air Cooling System allows high duty cycle.
Binzel® non-live Euro torch reduces accidental arcing and is comfortable in the hand thus ensuring a steadier weld bead.
Welds stainless and aluminium too.
Includes industrial gas regulator, contact tips 0.6, 0.8mm and gas cup
Specification
Welding Current: 30-180A
Wire Capacity: 5-15kg
Duty Cycle: 100% @ 56A, 75% @ 65A, 60% @ 73A, 15% @ 145A
Cooling System: Forced Air
Spot Welding Timer: Yes
Gas Type: CO2, Argon, CO2/Argon Mix
Torch: 3mtr Euro Non-Live - BINZEL® MB15
Supply: 230V
Absorbed Power: 5.7kW
Case Size: Large
Weight: 45kg
Please call us for our comprehensive and competitively priced range of gases, mig wire, tips, regulators, hoses and replacement torches.