Wilkinson Star XCalibur Eurostar 200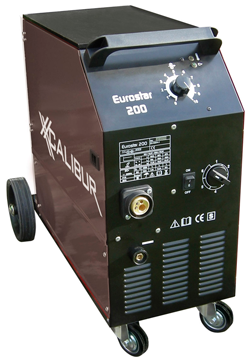 Wilkinson Star XCalibur Eurostar 200 Compact Mig Welder
The Xcalibur Eurostar 200 Compact Mig Welder is a professional step voltage mig set. Built to a high standard the Eurostar offers the quality and rugged reliability expected in the automotive repair, maintenance and light industry sectors.
The Eurostar has been designed for welding steel, stainless steel, aluminium and can also be used for MIG brazing. The welder will take 5 or 15 kg reel sizes and can run a range of wire diameters from 0.6mm up to 0.8mm.
The Xcalibur is fitted with industrial quality components and offers fan assisted cooling and thermal overload protection.
Features
Excellent weld performance
Easy to use
Euro torch connection
Suitable for welding steel, stainless steel, aluminium and Mig brazing
Sloping front panel makes it easy to view and adjust the controls
Technical Specification
Input Voltage 230V 50Hz
Current range 30-200 amps
6 x voltage settings
Duty cycle 180 amps @ 20%
Open Circuit Voltage 22-48V
Ideal for automotive work with 30 minimum amps
On wheels with gas bottle holder
Euro style torch fitment
Takes 5KG or 15KG reel size
Heavy duty durable chassis
Complete package - Includes 3M Euro-Torch, Earth lead, Mains cable, Gas hose and regulator
Weight Kg 40
12 months warranty
Package Includes
Xcalibur 200 Mig Power Source
Starparts Mig Welding Torch
Earth Return Lead
Gas Regulator
Please call us for our comprehensive and competitively priced range of gases, mig wire, tips, regulators, hoses and replacement torches.