Dunlop Wheel Balancer Accessories
Dunlop Wheel Balancer Accessories
The following range of cones and adapter plates enhance the opportunity to maximise your balancing abilities.
Transit Cone & Spacer Kit (150360090)
A larger cone and spacer kit to accomodate large hole centre wheels.
Centerless Wheel Adapter Plate (405360108)
Adapter plate for centreless wheels commonly used on PSA vehicles.
4x4 Adapter Plate (201009369)
Ideal for 4x4 size wheels.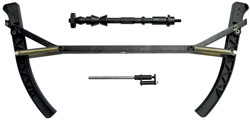 Motorcycle Adapter Kit (MJ-11)
Adapter kit to cover balancers to accept motorcycle wheels.
 Spacer Kit for Wide Wheels with Large Offset (DWBSPACER)
Wide wheel spacer - allows correct clamping to balancer. This is included in 4x4 Kit
Complete Accessory Kit (204009369)
All of the above cones and adapters 
Complete with wall mounting board