HPC SX6 and SX6RM Rotary Screw Compressor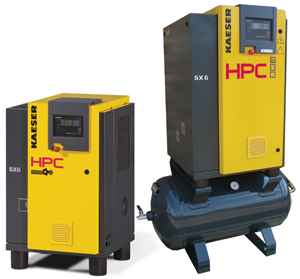 HPC SX6 and SX6RM Rotary Screw Compressor
HPC compressed air screw compressors are renowned throughout the industry for their reliability and resilience. Quiet in operation and low in maintenance costs the systems are designed to operate at full load 24 hours a day, 7 days a week.
The compact SX series design enables installation in environments where space is at a premium, yet provides excellent component accessibility and ease of maintenance whilst providing outstanding economy, efficiency and reliability.
The high efficiency 3 phase 4kw EFF1 electric motor consumes less power for greater output and the SIGMA Profile airend provides a large 16.9cfm @ 10 bar volume of air. The SX6 operates at especially low noise levels from just 60dB(A) and therefore is ideal for all installation location. The SX6 is an ideal choice for a small to medium garage or a small bodyshop.
The SX6RM is a receiver mounted option ideal for ease of installation and space saving. The 190 ltr air receiver enables large quantities of air storage and consistent supply levels at times of high demand. Where used in industrial and bodyshop environments a stand alone dryer can be added which eradicates any trace of humidity. The TAH7 is the ideal match to the SX6 air output.
We offer a full compressor & pipework installation, repair, service and certification service for all your compressed air needs.Contact our Garage Equipment sales & service team for more information on 01823 328530.
Please call our sales team on 01823 328530 for prices.
Features
Stand alone or receiver mounted (RM)
Quiet & dependable
Ideal for small/medium garage
Highly efficient & cost saving
Specification
21.2cfm @ 7.5 bar
16.9cfm @ 10 bar
4Kw - 3ph only
190ltr receiver