Workhorse WR3HP-150S Piston Compressor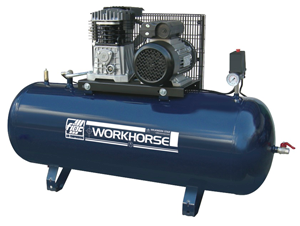 Workhorse WR3HP-150S Piston Compressor
This is the largest and most popular professional, heavy duty, single phase piston compressor available and offers dependable air delivery at an excellent price.
This compressor offers a large 13CFM 10bar air output which will delivers sufficient compressed air for most small to medium size workshops. The large 150ltr receiver stores ample air capacity and ensures maximum efficiency. With a 240volt 3HP heavy duty motor, the compressor will happily run on a standard 13amp plug.
The twin cylinder pumps offer slower running, lower noise and longer life, which sets this compressor apart from its competitors and enables us to offer a 2 year warranty.
We offer a full compressor & pipework installation, repair, service and certification service for all your compressed air needs. Please contact our Garage Equipment sales & service team for more information on 01823 328530.
Features
Cast iron cylinder block
Air receiver built to latest European Standards 09/105 CE
Heavy duty industrial motor with overload protection
Twin cylinder pumps
Fitted aftercoolers
Aerodynamic flywheels for efficient cooling
Slow running pumps giving lower noise levels & longer life expectancy
Automatic stop/start controls
UK built & tested to latest European standards
Full backup by our factory trained engineers
2 Year conditional warranty (Subject to registration terms & conditions)
Specification
Motor HP 3.0
Air Receiver Litres 150
Displacement CFM 13.0
Free Air CFM 9.0
Electrical Phase 1
Dimensions (mm) 1350 x 540 x 1040