An-San Image Key Cutting Machine
An-San Image Mortice Key Cutting Machine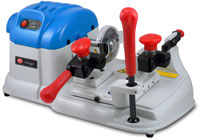 The Image key cutting machine is designed for high volume professional users and offers Bit & Double Bit, Pump keys, Flat keys & square keys. It boasts a high quality and robust design offering excellent accuracy and long term performance.
The ergonomic design and broad base gives the machine a stable operation and accurate results.The most striking feature of the Image is how it is inclined towards the operator to offer greatest comfort and control.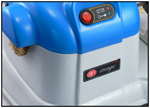 Control Button
The control button are built into the top of the body and operate with quality switches that are protected from contamination.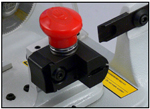 Clamping System and Follower
The key clamping can adjust to any size of key with a quick release lever and the follower is conveniently located to make the copying as easy as possible. The calibration check is easy to perform and quickly adjustable.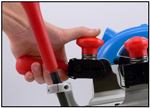 Mortice Control Handles
The design of the control handles makes the cutting of new keys simple and accurate. A grip handle allows control of the depth of cut whilst the long control lever enables fine control of the width of cut.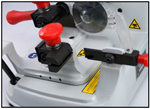 Smooth Movement
The bed uses maintenance free linear ball bearings which gives a fantastically smooth operation and amazing control.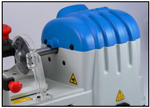 Quiet Operation
The lower RPM and quality designed motor makes the Image a very quiet machine, this is important where consistent use and high volumes are involved.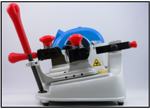 Ergonomic Design
The design of the machine body is inclined towards the operator which offers excellent comfort and control when extensive use is required.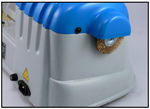 Side Brush
To the side a polishing brush enables rough edges and burrs to be polished and assists with stopping the machine.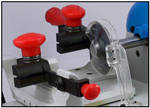 Safety and Approvals
The Carisma SM is CE approved and equipped with a safety shield over the cutting blade which protects the operator and deflects displaced metal.
Technical Spec
Height 280mm
Width 480mm
Depth 260mm
Weight 14kg
Power 220v 50Hz 180W
RPM 1400
Cutter 80x1x22 Diamond