An-San Panther S Key Cutting Machine
An-San Panther S Dimple & Laser Key Cutting Machine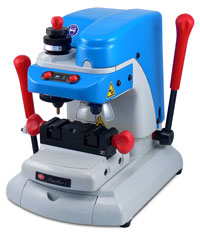 Top quality at a great price
The Panther S is our most popular machine of this type, it is a high quality key machine able to cut lazer and dimple keys with precision and simplicity.
The Panther range of key cutting machines offer a high quality and robust design offering excellent precision and long term performance in even the busiest key cutting centres. The ergonomic design and broad base gives the machine a stable operation. The most striking feature of this series of machines is the versatility and accuracy built into this machine that can only be matched by machines that are far more expensive.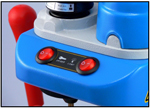 Touch Control Buttons
The control buttons are built into the top of the body and operate with quality touch sensitive switches that are protected from contamination.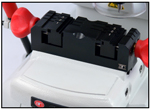 Horizontal Suspension
The ball bearing chassis offers the highest accuracy, smooth operation and support whilst being total maintenance free. The rotary level enables the spring tension to adjusted to your preferred settings. The level control offers a smooth and precise feel that gives the operator confidence in the milling process.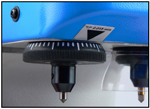 Electronic Setting
Thanks to the electronic control supported adjustment system the calibration can be completed in a few steps and offer an accuracy of 0.01mm. The correct setting is detailed with a go/no go warning light calibration system that assists easy and rapid calibration.
LED Lighting
An LED illumination strip built into the roof of the body and directed at the cutter / jaw area of both mortise and cylinder positions offers excellent visibility of the work in all ambient light conditions.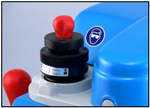 Vertical Suspension
The tracer can be lowered to the work to enable the centre to be identified and the position of the tracer pre checked without the cutting mill touching the new key. Once confirmed can be locked back in the calibrated position.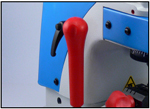 Z Axis Control
Once the cutter is lowered to the work the handle can be rotated and lock to the depth of the required milling, this enables the calibrated depth to be maintained.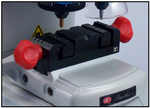 Modular Clamping System
The highly accurate clamping system has 3 different positions to offer the greatest flexibility of key clamping. The jaws included graded position and stop positioning. The quick clamps offer rapid and accurate clamping of the work.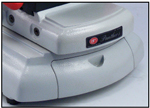 Toolbox
The cutting tools are conveniently stored in the toolbox in the front of the machine.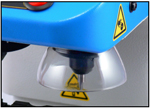 Safety and Approvals
The Panther is CE approved and equipped with a safety shield over the cutting blade which protects the operator and deflects displaced metal.
Technical Spec
Height 340mm
Width 300mm
Depth 420mm
Weight 20kg
Power 220v 50Hz 150W
RPM 5800
Cutters 3mm x 40 HSS 2mm x 40 HSS 106 degree x 40 HSS
Key styles Lazer Dimple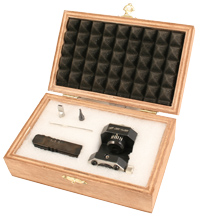 Optional Tibbe Adapter
This new and innovative adapter enables Tibbe keys to be cut on your cavity machine.
It will work with any of the An-San Panther range of cavity milling machines or any other cavity (Lazer) machine that uses standard 6mm tracer/cutter shaft.