Miracle S10 Key Cutting Machine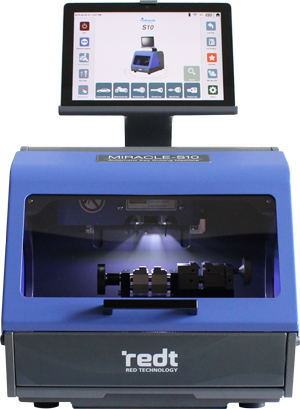 Miracle S10 Key Cutting Machine
Our new all in one key machine. The S10 features a unique retractable decoder system minimising accidental breakages. The Dual clamping system allows for greater flexibility and adaptability when working on multiple projects.
It has 2 end mill cutting heads so you can have two different cutters fitted. Like for example end mill cutter and dimple cutter.
Features
10" Touch screen eases operating the device
Newly developed 4th-generation XY platform equipped
Remarkably high performance thanks to stronger motor and the 4th-generation-platform
Dual built-in cutter system for less cutter exchange
Dual built-in, sliding clamp system for less clamp exchange
New clamp set with interchange-able jaws for easier jaw change
Full-automatic key and clamp measurement
Larger space for clamp manipulation
Built-in bluetooth wireless communication
Artificial Intelligent(AI) software that automatically decides best cutting method
Remarkably improved CodeMaster2 version 10 software supplied
Equipped Tools and Clamps
Decoder 4mm x 1, Endmill 2.0mm x 1 and Dimple Cutter x 1
S10 Automobile Key Clamp x 1 (VA2 Available)
S10 Replaceable Clamp (Dimple, HU66, SX9 and HU162T Available)
S10 Single Sided Key Clamp
Additional Accessories Included
Power Adapter 24V 6A x 1
Power Cable x 1
USB Cable x 1
OTG Cable x 1
Endmill 2.0 mm x 1
M5 Bolt x 3
Wrench 2.5mm x 1
Decoder 6mm x 1 (Only for calibration)
Decoder 4mm x 1
Stopper x 1
Auxiliary Key Clamp Set x 1
Calibration Bar x 1
Tool Rack x 1
Spindle Belt 32mm x 2
Instruction Manual x 1
Surface Go Tablet x 1
Brush x 1
Mounting Bracket x 1
Ground Wiring x 1
Spacer Bar x 1
Back Bracket x 1
Optional Clamps (Separately Sold)
Magnum Key Clamp
Tubular Key Clamp
Tibbe Key Adapter
FO19 Adapter
Technical Specification
| | |
| --- | --- |
| Size | 362mm(W) x 427mm(D) x 505mm(H) |
| Resolution | (XY) 0.005 / (Z) 0.00125mm |
| Spindle Motor Power | 109W DC Motor |
| Power Consumption | Stand-by 30W / Operating 135W |
| Weight | 33Kg |
| Power | AC 100-240V 50/60Hz |
Optional Household Jaws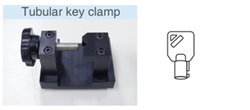 Tubular Key Clamp
Add-on jaw designed for tubular key applications.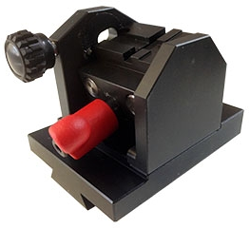 Magnum Jaw
Jaw turns 14 degrees left and right for Dimple cutting. This adjustable clamping system permits the 14 degree tilt needed for the cutting of Yale Superior.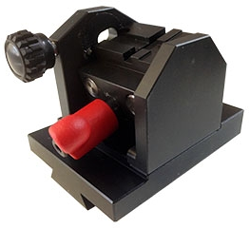 Magnum Kit
Jaw turns 14 Degrees Left and Right for Dimple cuts. This adjustable clamping system permits the 14 degree tilt needed for the cutting of Yale Superior.
Includes Adaptor, 1.5mm cutter, Dimple cutter and Dimple decoder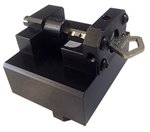 Abloy Single Sided Jaw
Abloy clamp for Miracle A9.
Optional Jaws for Auto Applications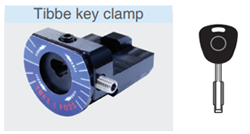 Tibbe Key Clamp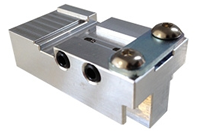 VA2 Renault
Miracle Renault Smart key adapter. For use with the Renault smart key cards.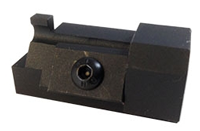 FO19
For the Silca FO19 key as used on the Ford, LDV and London Taxis.
Replacement Cutters and Decoders

T60-E20-P
6mm x 2mm Cutter

T60-E15
6mm x 1.5mm Cutter.
For the edge cut keys that need a narrower cutter. (example GT10, Iveco etc). Also for the Miracle Select.

T60-E10-P
6mm x 1mm Cutter

T60-P10
1mm Decoder Tip.
Replacement Jaws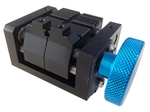 Auto Jaw
Included in A9S Auto package.