An-San X-Cut Key Cutting Machine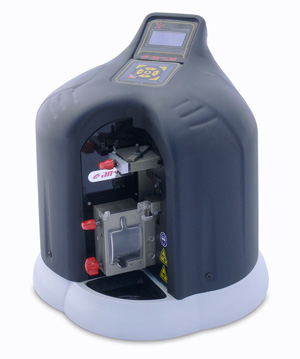 An-San X-Cut Key Cutting Machine
With the X-Cut, you can now produce a new key and copy your customer's key, even if the blank is not in stock.The complete cutting and copying process can be completed in only a few minutes.
X-Cut has a specially designed system that reads both sides of the key using "Nanotech" reading probes.
The X-Cut is easy to use with step by step quick processes, has an integrated LCD display, capacitive touch buttons and an illuminated cutting area.
X-Cut has a strong and stable motor for cutting highly sensitive profiles. The quality cutter achieves both a superior finish and high number of cuts.
Comes with an area shield and shavings container under the cutting section.
Technical Data
| | |
| --- | --- |
| Motor | DC 56W |
| Speed | 3000 RPM |
| Power | 240V 50Hz |
| Wattage | 150W |
| Cutter | 20 x 0.3 x 5mm |
| Illumination | 3W LED |
| Control | Capacitive Touch |
| Screen | Graphic LED |
| Dimensions | 41 x 42 x 45cm |
| Weight | 15Kgs |
Key Blanks
ANSBKN22 A Blank Circle Head 0.22mm Key Blank
£1.80 + VAT
Log in for Trade Prices
ANSBKN25 B Blank Circle Head 0.25mm Key Blank
£1.80 + VAT
Log in for Trade Prices
ANSBKN28 C Blank Circle Head 0.28mm Key Blank
£1.80 + VAT
Log in for Trade Prices
ANSBKN31 D Blank Circle Head 0.31mm Key Blank
£1.80 + VAT
Log in for Trade Prices
ANSBKD25 E Blank Square Head 0.25mm Key Blank
£1.80 + VAT
Log in for Trade Prices
ANSBKD31 F Blank Square Head 0.31mm Key Blank
£1.80 + VAT
Log in for Trade Prices
ANSBKDV V Blank Square Head 0.40mm Key Blank
£3.95 + VAT
Log in for Trade Prices