Tempest Key Cutting Machine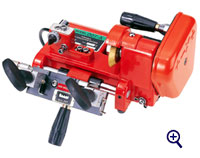 Tempest Cut to Copy for Cylinder Keys
A small and totally portable key cutting machine for both cylinder and mortice keys. Ideal for mobile key cutting or lower volume work.
Available in 12V and 220V versions.
Tech Spec
Motor : 12v (80w) - 220v (50hz or 60hz)
Dimensions : 250mm x 240mm x 150mm (WxDxH)
Weight : 5 KG
Please note. Only the 220V available at the time being.