An-San Junior Key Cutting Machine
An-San Junior Tibbe Key Cutting Machine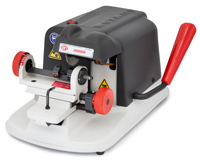 The Junior Ford and Jaguar Tibbe key cutting machine offers excellent quality at an amazingly affordable price making it one of the most popular Tibbe machines on the market.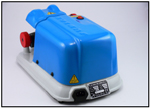 Compact Design
Thanks to the aesthetic design the machine offers excellent stability whilst occupying very little bench space making it an ideal choice for shops or mobile operators.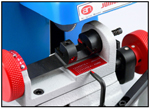 Accurate Sensitivity
The ball bearing chassis offers the highest accuracy, smooth operation and support whilst being total maintenance free. The rotary level enables the spring tension to adjusted to your preferred settings. The level control offers a smooth and precise feel that gives the operator confidence in the milling process.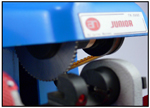 Powerful Operation
The fast running powerful motor offers a clean and precise cut. The knife cutting technology gives a solid cut to the exact depth required.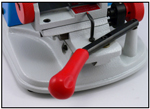 Manual Operation
The feed handle offers excellent feel and spring mechanism return.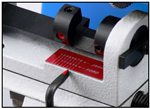 Dual Operation
The machine will offer both the Ford 6 cut / 4 depth and the Jaguar 8 cut / 3 depth without further adjustment or conversion. (Jaguar 1=1 2=3 3=4)
Technical Spec
Height 210mm
Width 220mm
Depth 360mm
Weight 15kg
Power 220v 50Hz 150W
RPM 2800
Cutter 63x2.5x16
Key styles - Tibbe