Silca Futura Pro Key Cutting Machine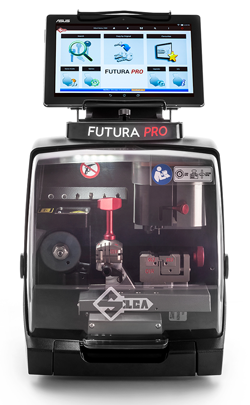 Silca Futura Pro Electronic Code Cutting Key Machine
Ground-breaking, Fully-automated, Portable
Now even faster than before, the Futura Pro stands out for the quality of its key cuts, its small footprint and its access to the widest key database available on the market, via the improved integrated tablet.
The Futura Pro is Silca's ground-breaking electronic key cutting machine for flat, laser, dimple and cruciform keys, and ideal for all types of residential and automotive keys.
Designed and engineered to minimize size while maximizing user-friendliness, it features fully-guided key cutting procedures and compact dimensions, making it the ideal tool for key cutters who want to be equipped with an affordable electronic key cutting machine and locksmiths who provide home repair and installation services and require an easy-to-carry machine.
Features
3 Axes fully automated movement
Independent jaws and decoders for flat and laser keys
Optical reader to decode and copy flat (standard) keys and electrical contact to decode and copy laser (milled) keys
Integrated software on 10" touch screen tablet
Large range of optional adaptors (including Simplex/cruciform, Ford Tibbe and tubular etc)
Silca software main data onboard (no need for additional PC)
Remote technical assistance (accessed directly from tablet)
Compact dimensions and reduced weight - ideal for mobile key cutting service
Applies the most cutting-edge technologies and highest standards of Silca quality
Includes the Silca Futura Pro and all 5 automotive adapters, covering HU162T, HU66, HU92, HU101, HU64, SX9 and Tibbe.
Please log in to see prices
Downloads
Silca Futura Pro Accessories Guide
Technical Data
Power Supply
Machine: 24V d.c - 5.5 Amp. - 130W
Power pack: 90/264V a.c. - 50/60Hz - 220W - Meanwell GS220A24-R7B
Cutter Motor (flat cuts)
24V d.c.
Cutter Motor (dimple/laser cuts)
24V d.c.
Prismatic Cutter (flat cuts)
01F, in HSS super rapid steel, TiCN coated
Cutter (dimple cuts)
01D, in HSS super rapid steel
Cutter (laser cuts)
01LW, in carbide, AICrN coated
Tool Speed
Prismatic cutter: 1585 rpm
Cutter (dimple/laser cuts): 12100 rpm
Movements
on 3 axes (with special bushes) driven by step motors (on rectified roller guides)
Clamp (flat cuts)
01V, removable, with 4 universal sides for holding flat, vehicle and cruciform keys
Clamp (dimple/laser cuts)
01R, removable and provided with interchangable jaws (01J and 02J)
Runs
X axis: 30mm, Y axis: 50 mm, Z axis: 27mm
Dimensions
width: 318mm, depth: 413mm, height with tablet and stand: 522mm (340mm without tablet and stand)
Weight
20 Kg