Premium PC4WLA 4 Wheel Laser Alignment Gauges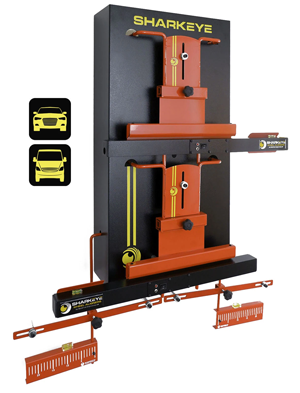 Premium PC4WLA 4 Wheel Laser Alignment Gauges
PREMIUM has all the great features of the SharkEye STANDARD but boasts lots of little smart upgrades that make it smoother and quicker. PTFE washers make adjusting to wheel diameters liquid. Cam levers make for one action locking. Laser etched toe scales for sharper visuals.
And it also comes with: premium heavy duty turn-plates, (6mm thickness), steering wheel levelling tool, premium steering wheel clamp and a 2 year Guarantee.
We think the PREMIUM is good, very good in fact. Modesty aside, we believe that they are the best car laser wheel alignment gauges that money can buy. And like all QuickTrak machines, it won't break the bank.
Comes with:
2 x Premium Heavy Duty Turnplates (3mm thickness)
1 x Heavy Duty Wall Bracket
1 x Premium Steering Wheel Clamp
1 x Steering Wheel Leveling Tool
1 x Brake Depressor Tool
10 Year Limited Warranty
Call us now on 01823 328530 for more details