Air Conditioning Kits
Air Conditioning Kits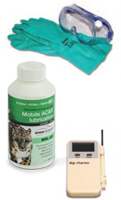 Starter Kit
A ready made starter kit for customers purchasing there first Air conditioning station. The kit includes safety equipment, a range of compressor oils, a bottle of gas and a temperature gauge to ensure the system is reaching the correct temperature.
Safety Goggles
Thermal Gloves
Digital Thermometer
PAG Oil 46
PAG Oil 100
PAG Oil 150
Gas Bottle Adapter
250ml Glo-leak dye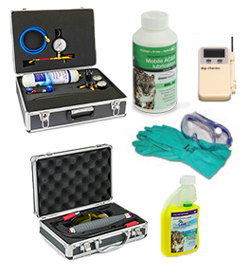 Diagnostic Kit
This kit includes everything in the Starter kit plus additional equipment to enable operators to trace leaks within the system.
Included in the package is a comprehensive UV leak kit including Glow leak dye, UV light and glasses that can be added to a system whilst recharging. Where vehicles come to you with no gas in the system, a Nitrogen test should be carried out to ensure no leaks are present.
The kit includes a Nitrogen bottle and regulator; a bottle trolley is available at an additional cost.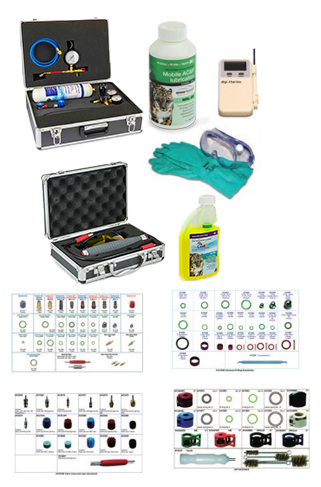 Full Service Kit
This Full Service kit includes everything in the Starter kit and Diagnostic kit plus additional equipment to repair the system if leaks are found.
The repair kit includes four universal packages of O rings, fittings, valves, caps and spring lock tools often necessary when the system is stripped and repaired.
R134a Full Service Kit