Brain Bee Air-Nex 9410 Air Conditioning Station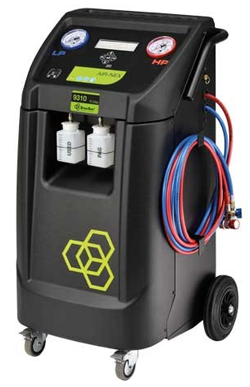 Brain Bee Air-Nex 9410 Air Conditioning Station
The Brain Bee AIR-NEX 9410 is a new modern design for entry-level units. Efficient servicing, regardless of the vehicle and comes complete with USB interface for software updates & remote diagnostics.
An extremely compact mobile conditioning station for R1234YF that whilst being very competitively priced offers many of the features normally reserved for more expensive machines.
The Airnex range of Air conditioning stations are highly accurate and offer a fully automatic operation. It benefits from digital control, powerful compressor and vacuum pump with a larger than normal 12l capacity.
Key Features
Supercharge
Long Life Pump®
Automatic oil injection
Export of reports as PDF files via USB pen drive
Easy activation via App
Oil Clean function
Manual purging of non-condensing gas
Oil bottles: 2 (fresh oil, used oil)
Two year warranty extendable to five years
Technical Data
544 x 617 x 957 mm (L x W x H)
Weight 65 kg
Refrigerant tank 12l
Reservoir capacity: 20 l
Thermal printer optional
Eco lock optional
Hybrid function optional
N-Leak test Function: with ext. opt. kit
Gas identifier optional
Super Charge
In all ambient conditions, the station is 100 % guaranteed to charge the system with the programmed quantity, irrespective of the temperature of the environment or engine – always at a constant speed and with clear energy savings
Oil Clean
The exclusive Oil Clean feature ensures that less refrigerant is needed to eliminate the old oil. What's more, every day, from the first service to the last, exactly the right amount of oil is put in.
ECO LOCK
ECO LOCK® is a patented feature that enables you to reduce the quantities of gas, ensuring your safety and greatly helping to protect the environment. The A/C station separates the air that normally gets into the refrigerant in the tank when it is connected to the vehicle. It then tests the vehicle connections for leaks before the end of the air conditioning service.
Long Life Pump
The special LONG-LIFE PUMP® feature extends the average life of the pump oil used in the station to up to 1,000 hours.
N-Leak Test
With the optional Nitrogen Kit, you can perform a leak test on the air conditioning system under pressure using nitrogen forming gas. The station software is prepared for this option as standard.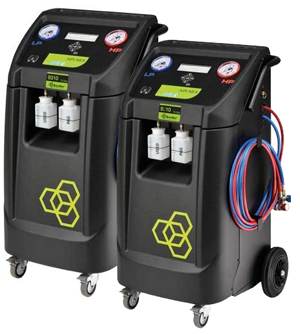 Combi Deal
2 x Automatic Air Conditioning Machines R134a and R1234yf.
Buy both machines to offer a comprehensive service covering both refrigerants.
AIR-NEX 9310 & AIR-NEX 9410