Brain Bee Air-Nex 9420 Air Conditioning Station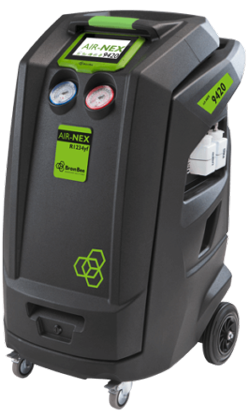 Brain Bee Air-Nex 9420 Air Conditioning Station
The Brain Bee AIR-NEX 9420 is the latest and advanced air conditioning station for 1234yf that whilst being very competitively priced offers many of the features normally reserved for more expensive machines.
The Airnex range of Air conditioning stations are highly accurate and offer a fully automatic operation. It benefits from digital control, powerful compressor and vacuum pump with a larger than normal 12l capacity.
Thanks to the inclusion of advanced features such as super charge, air purge and long life pump, this machine offers outstanding efficiency and accuracy.
The AIR-NEX is simple to use with intuitive graphics on a colour 7" tablet display that can automatically email the results or send straight to a remote printer.
Key Features
Fully automatic operation
7" high visibility touchscreen tablet display
Wi-fi enabled for remote test, repair & update
Vehicle database that auto updates
12l storage
Super charge 100 per cent accuracy
Hybrid function
Oil care system, prevents moisture contamination
Air purge system
High precision vacuum
Long life pump
Two year warranty extendable to five years
Technical Data
Dimensions: 700 x 750 x 1100 mm
Weight 85 kg
Reservoir capacity: 12 l
On board printer: optional
Gas identifier: optional
Super Charge
In all ambient conditions, the station is 100 % guaranteed to charge the system with the programmed quantity, irrespective of the temperature of the environment or engine – always at a constant speed and with clear energy savings.
Air Purge System
Automatic monitoring of non-condensing gas: special software ensures that the purging of noncondensing gas is only recommended when actually necessary. This way, you can decide for yourself whether you wish to carry out this procedure, and always stay in complete control of the station.
Oil Clean
The exclusive Oil Clean feature ensures that less refrigerant is needed to eliminate the old oil. What's more, every day, from the first service to the last, exactly the right amount of oil is put in.
HPV
The HPV (High Precision Vacuum) reaches the required level of vacuum for the drying effect more quickly, saving energy.
Long Life Pump
The special LONG-LIFE PUMP® feature extends the average life of the pump oil used in the station to up to 1,000 hours.
N-Leak Test
With the optional Nitrogen Kit, you can perform a leak test on the air conditioning system under pressure using nitrogen forming gas. The station software is prepared for this option as standard.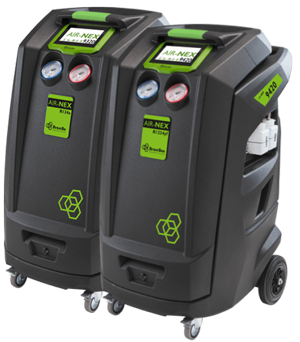 Combi Deal
2 x Automatic Air Conditioning Machines R134a and R1234yf.
Buy both machines to offer a comprehensive service covering both refrigerants.
AIR-NEX 9320 & AIR-NEX 9420