Texa Konfort 705R Air Conditioning Station

Texa Konfort 705R Air Conditioning Station
A very low cost entry level R134A machine for the smaller garage that wants to vacuum and recharge as cost effectively as possible.
The unit offers the normal high build quality of Texa machines and is fully automatic in operation, carries the full database, includes automatic oil injection but requires UV dye to be introduced separately.
Features
Compatible with R134a
Automated management of recovery and recycling
Manual and automated use
Vehicle database for car
10 kg tank
Single stage vacuum pump
Automatic oil injection (timed function)
2 manual recharging line control valves
2 years warranty extendable to 5 years
Integrated thermal printer
Functioning Modes
Database
Customised Service
My Database
Hydraulic System Flushing
In order to guarantee safety and efficiency, it is important that each type of oil and refrigerant are not cross contaminated. TEXA have therefore developed a special automatic flushing function to clean the internal circuits of the service station.
Automatic Leak Detection Management
The KONFORT 700 series units automatically carry out a dual leak detection check. All safety related operations take place automatically in order to eliminate errors.
Operating Software
TEXA operating software conforms to the strictest requirements of accuracy and precision.
Any possible faults or messages are displayed via detailed error messages. TEXA software manages the recovery and service processes, in order to guarantee precession that was previously unknown.
In particular, the automatic procedures assist the operator with repairs on highly sophisticated systems, such as those fitted on the new hybrid vehicles. All models have a removable SD card which allows communication with a Windows PC to update vehicle make and model database, check and certify all services and potential software updates.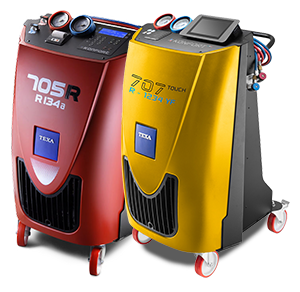 Combi Deal
2 x Automatic Air Conditioning Machines R134a and R1234yf.
Buy both machines to offer a comprehensive service covering both refrigerants.
Texa 705R & Texa 707R
Technical Specification
| | 705R | 705R OR | 707R | 710R | 712R | 720R | 760R | 760R BUS | 770S | 780R | 744 |
| --- | --- | --- | --- | --- | --- | --- | --- | --- | --- | --- | --- |
| R134a compatible | | | | | | | | | | | |
| R1234yf compatible | | | | | | | | | | | |
| C02 compatible | | | | | | | | | | | |
| Dual refrigerant | | | | | | | | | | | |
| CAR and TRUCK compatible | | | | | | | | | | | |
| BUS compatible | | | | | | | | | | | |
| Rotating pressure gauge and display assembly | | | | | | | | | | | |
| CL1 pressure gauges | | | | | | | | | | | |
| Fully automatic maintenance management | | | | | | | | | | | |
| Automatic leak detection | | | | | | | | | | | |
| Electronic scales for refrigerant weight measurement | | | | | | | | | | | |
| ATB (Air Tight Bottle) oil anti-contamination system (registered patent) | | | | | | | | | | | |
| Automatic oil management with electronic scales | | | | | | | | | | | |
| Timed oil injection | | | | | | | | | | | |
| Timed UV tracer injection | | | | | | | | | | | |
| Electronic scales for weighing recovered refrigerant | | | | | | | | | | | |
| Hybrid vehicle compatible | | | | | | | | | | | |
| Automatic service management (database) | | | | | | | | | | | |
| Personal service management (database) | | | | | | | | | | | |
| FPS (Fan Protection System) | | | | | | | | | | | |
| Flushing system for refrigerant changes | | | | | | | | | | | |
| Flushing system for oil changes | | | | | | | | | | | |
| Refrigerant identifier kit | | | O | | | | O | O | | O | |
| KONFORT service reports on SD | | | | | | | | | | | |
| Print-out of completed services | O | O | O | O | O | O | O | O | | | |
| High visibility TFT colour display | | | | | | | | | | | |
| High visibility graphic display | | | | | | | | | | | |
| DATABASE and service management by SD card | | | | | | | | | | | |
| KONFORT APP | | | | | | O | O | O | O | O | |
| 2 x 12 kg tanks | | | | | | | | | | | |
| 10 kg tank | | | | | | | | | | | |
| 12 kg tank | | | | | | | | | | | |
| 20 kg tank | | | | | | | | | | | |
| 30 kg tank | | | | | | | | | | | |
| Charging accuracy +/- 10 g | | | | | | | | | | | |
| Charging accuracy +/- 15 g | | | | | | | | | | | |
| High efficiency refrigerant recovery (over 95%) | | | | | | | | | | | |
| Double stage vacuum pump | | | | | | | | | | | |
| 100 l/min single stage vacuum pump | | | | | | | | | | | |
| Automatic oil tank recognition (registered patent) | | | | | | | | | | | |
| Scales locking system | | | | | | | | | | | |
| Functioning modes: DATABASE | | | | | | | | | | | |
| Functioning modes: PERSONALISED SERVICE | | | | | | | | | | | |
| Functioning modes: MY DATABASE | | | | | | | | | | | |
| Multi-language software | | | | | | | | | | | |
| Automatic compensation for length of recharging lines | | | | | | | | | | | |
| Automatic maintenance alarm | | | | | | | | | | | |
| Simplified maintenance | | | | | | | | | | | |
| Automatic management of uncondensable product | | | | | | | | | | | |
| Thermal printer | | | | | | | | | | | |
| Flushing kit | | | | O | O | O | O | O | O | O | |
| A/C system efficiency testing kit | | | | | | | O | O | O | O | |
| Automatic, high precision oil injection | | | | | | | | | | | |
| Air conditioning system autodiagnosis | | | | | | | O | O | O | O | |
| 2 manual line control valves | | | | | | | | | | | |
| Leakage detection kit with forming gas | O | O | O | O | O | O | O | O | O | O | |
| Leakage detection kit with forming gas (based on Mercedes specifications) | | | | | | | | | | | |
| Automatic metering of refrigerant release | | | | | | | | | | | |
| Automatic monitoring of C02 concentration in atmosphere | | | | | | | | | | | |
Downloads
Optional Items