Dama HDM588 Heavy Duty Tyre Changer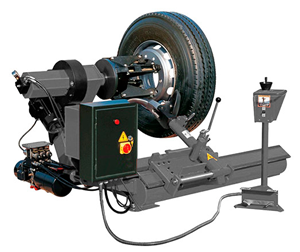 Dama HDM588 Heavy Duty Tyre Changer
A very popular commercial vehicle electro hydraulic universal tyre changer for trucks, buses and industrial vehicles.
The large capacity takes tyres with a rim width of 14" to 26" and maximum diameter of 1500mm.
The heavy duty tyre changer is easy to operate with a movable control post and joystick, enabling the full process to be completed with ease, under control and in clear sight.
Price includes delivery and installation.
Technical Specification
| | |
| --- | --- |
| Rim diameter | Dimensions: 14" to 26" |
| Maximum weight of wheel | 1500 kg |
| Maximum wheel width   | 760 mm |
| Maximum wheel diameter | 1500 mm |
| Motor Hydraulic Pump | Power : 1.1kw 380v-3ph |
| Gearbox | 1.8kw 380v-3ph |
| Operating Pressure | 50-130 bar |
| Force exerted | Effective strength: 1500 Kg |
| Noise level | 75dB |
| Net weight | 561 kg |
| Warranty | 24 months |
Drawings

Downloads
Call us now on 01823 328530 for more details